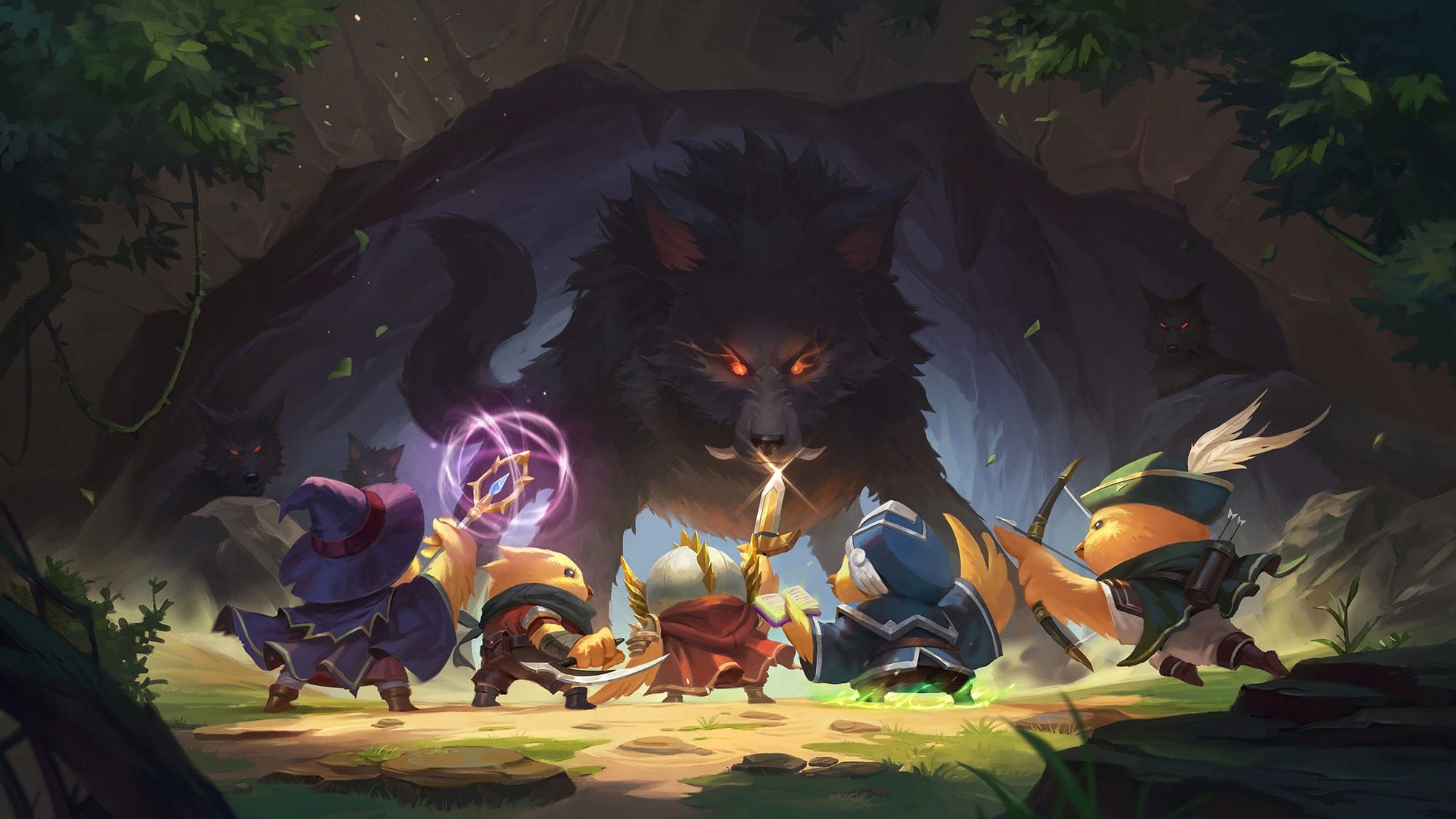 Stats / Elemental Attributes / Levelling System
Weapon / Equipment System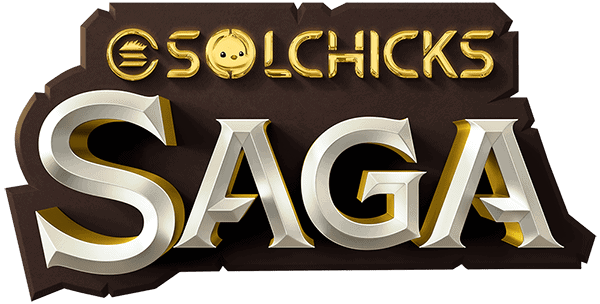 SolChicks Saga is a play-to-earn ("P2E") multiplayer role-playing game where the players' unique SolChicks NFTs are used as their game characters. Our mission is to make SolChicks Saga first and foremost fun, and we are mainly targeting soft to mid core players who are looking for a unique experience in a friendly setting.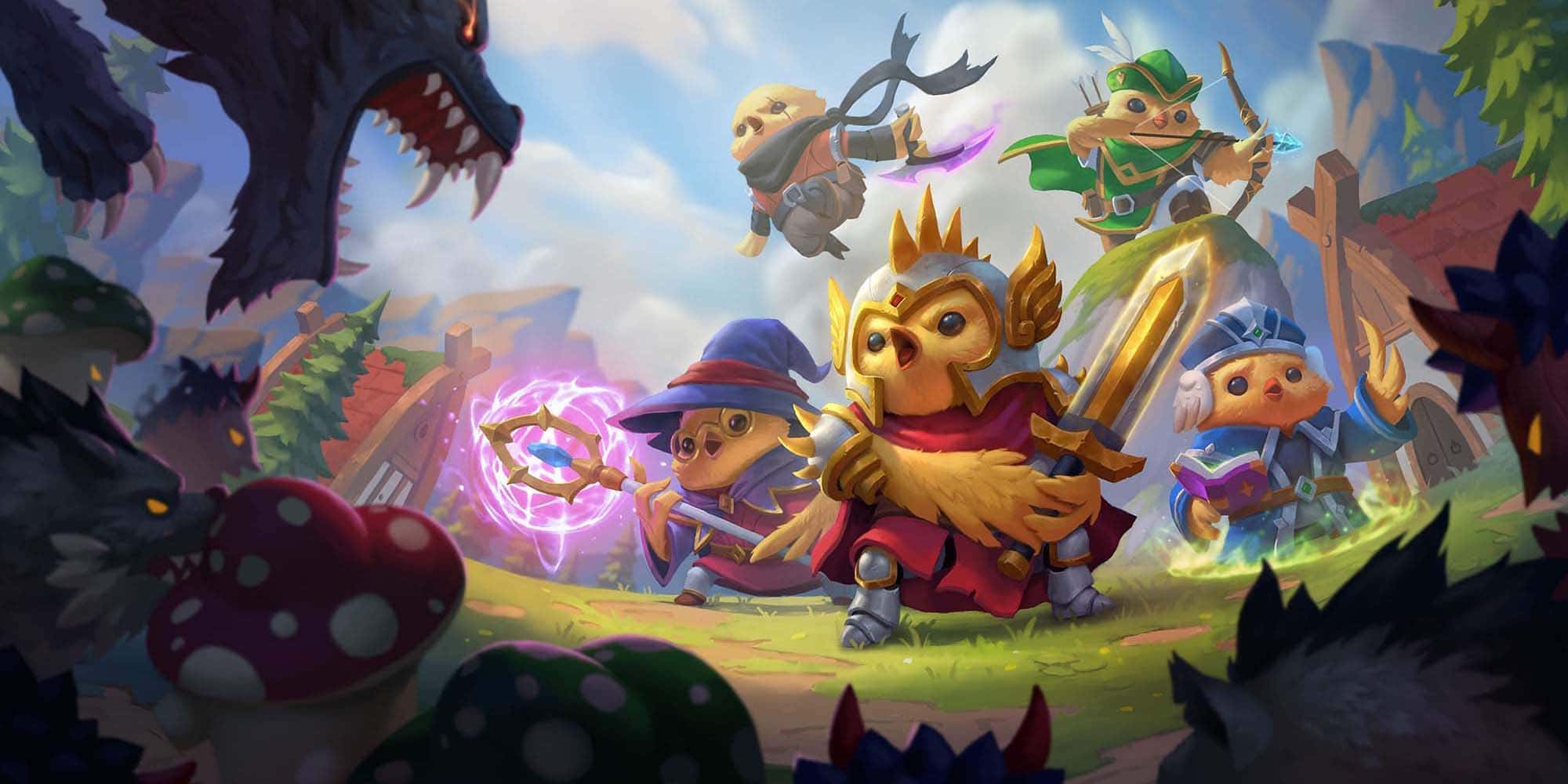 Players can participate in SolChicks Saga in multiple ways, be it leveling their characters through participating in PvE or PvP challenges, farming the rarest items and seeking hidden treasures, or even just treating your SolChicks as virtual pets to pass time. Amongst the key differentiating factors is that SolChicks Saga is NFT driven where the SolChick NFT will act as the player's in-game avatar.
Where should we begin… You see, the SolChicks were originally just sentient chick-like beings, who were named the Chicks. Native to the planet Chicco, the Chicks were a peaceful race which had mostly kept to themselves. They lived for generations without strife and interference from the outside world during a time, which from their ancient codices, they called the Period of Calm. True to the era's name, the Chicks developed a strong cultural identity and lived relatively peaceful and prosperous lives through harnessing the power of the Solarium Seeds.
What are Solarium Seeds you may ask? In short, they are the seeds of the World Tree, Soldrysil. Soldrysil is the mother of life in the universe, and her seeds were scattered across the universe and landed on different planets, fueling sentient life and evolution. Each seed contained immense power, and many sought the power of the World Tree for themselves. We will come back to this later.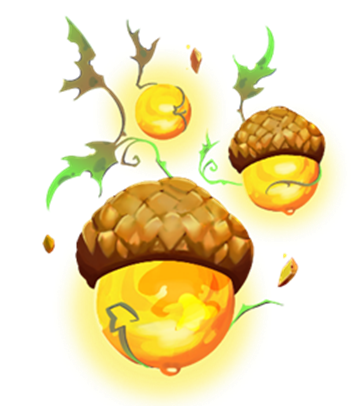 Well, as the Chicks expanded their knowledge of the world and subsequently the universe through the years of Calm, a group of scholars discovered that for every ray of light, there is a sliver of darkness. As the old adage goes, "Without darkness, there cannot be light". The Chicks discovered that under certain extreme conditions not found naturally on planet Chicco, Solarium Seed fragments would transform into a vessel of darkness known as the Lunaris Crystals. Afraid of where such studies would lead, the Council of Elders quickly banned the study of Lunaris Crystals and magics surrounding the dark power. Hence, documentation of such studies was scarce, but from what was gleaned from the recovered journals of those scholars, the aforementioned "extreme conditions" included exposing the seeds to near lethal amounts of pain and suffering.
Despite the decree from the Council, there were the few devoted ones who continued to delve further into the study of the Lunaris Crystals. Those who did, called themselves the Enlightened. They believed that the Council were myopic and that if they could find a way to utilise these crystals, they could provide a great source of power and even ward off calamities such as droughts and blights.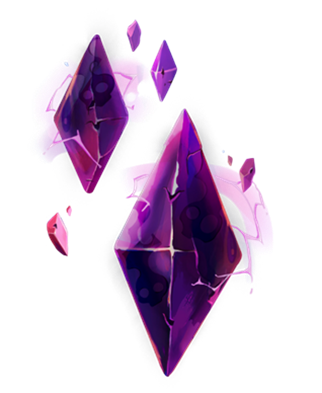 The Enlightened worked in secret, but as kidnappings and disappearances intensified in the villages and cities, the authorities quickly caught up with them. The Council, worried and relieved at the same time, quietly casted the Enlightened away from society, never to be heard of again. The Elders thought this to be merciful, but to the Enlightened, they felt only hopelessness and betrayal.
All we can say, is that the wild was a cruel place. The Enlightened had initially resorted to feeding on tree bark to survive, but slowly they adapted to hunting. Without the nourishment from the Solarium Seeds, they slowly degenerated. The Enlightened lost their beaks, and in its place, a row of sharp teeth for tearing meat. They were also skinny to the bone, and their eyes were hollow from living in the caves. Their feathers' once bright sheen now paled and darkened. They were unrecognizable. They were now monsters.
Yet, their work never stopped, much to the dismay of the wildlife around them. They gradually learned to shape the power from the Lunaris Crystals and was ultimately successful in creating a scrying orb. The orb had the Enlightened in thrall. They stopped their work, and each day they would stare into its gyre of darkness as if in trance. They prayed and prayed, in hopes that a higher being, whoever that was, would lead them to salvation. That would have been the end of the Enlightened if not for a cruel twist of fate — on the 33rd day of their trance, their prayers were answered by one known as Yurislava the Cunning. Although the Enlightened could only hear her voice, they were enthralled by her promises of false power from the void.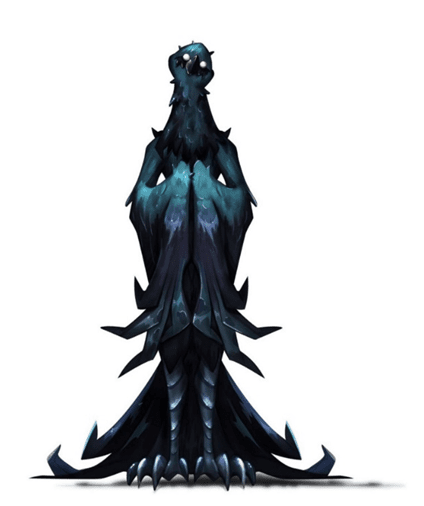 What happened after was pure speculation, some said Yurisalva possessed the Enlightened, some said Jenada was to blame, others said it was the Enlightened that mind controlled Jenada and summoned the Darkfangs. But whatever was the truth, not long after they first heard Yurislava's whispers, the Enlightened were never heard of again, and a curious hermit named Jenada would decide to leave her self-imposed exile to rejoin society.
The rest was history. Jenada, with her powers of clairvoyance, would join the Council of Elders and would be known as the Oracle. She would slowly lead the Chicks to their doom and open portals in the name of knowledge. Darkfangs from the planet Haxor would pour out of those very portals opened by the Chicks which would mark the start of The Hundred Day War. The Chicks, caught by surprise, would find themselves quickly overwhelmed. Jenada was nowhere to be found.
In their darkest hour, a faerie appeared before the Council of Elders. The faerie wielded powerful magics, which temporarily halted the advance of the Darkfangs who hungered for the planet's supply of Solarium Seeds (and Lunaris Crystals). "The World Tree has been waiting for you. Come, walk through the portal, and take your rightful place next to her warm embrace." The faerie preached. The Elders had no choice — their entire race risked being hunted to extinction by the Darkfangs. Desperate, the Elders gathered what remained of their people, and led them through the portal to planet Mellow.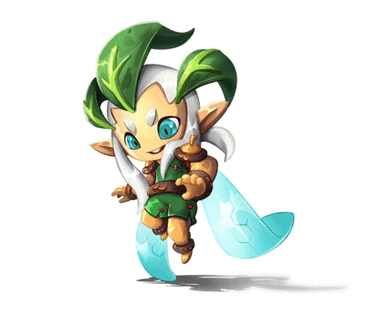 That decision marked the new chapter in the history of the Chicks. They bid goodbye to their dying home and were greeted by a welcoming sight of lush green plains. The Chicks slowly rebuilt what they have lost under the guidance and protection of the World Tree. The Chicks also made friends with the native species of Mellow.
The Chicks, now more powerful, organized their society in a Spartan fashion and held biannual festivals called the Proving as a reminder of their past. More importantly, the Proving was a competition to select the strongest amongst their fledglings who would join the ranks of the Braves. Each Brave is blessed by the World Tree and reborn as the World Tree's champions and defenders of planet Mellow. That's how the Chicks became known as the SolChicks. When Lunaris Crystals formed on planet Mellow and corrupted the local flora and fauna, the Braves would be there to contain their spread.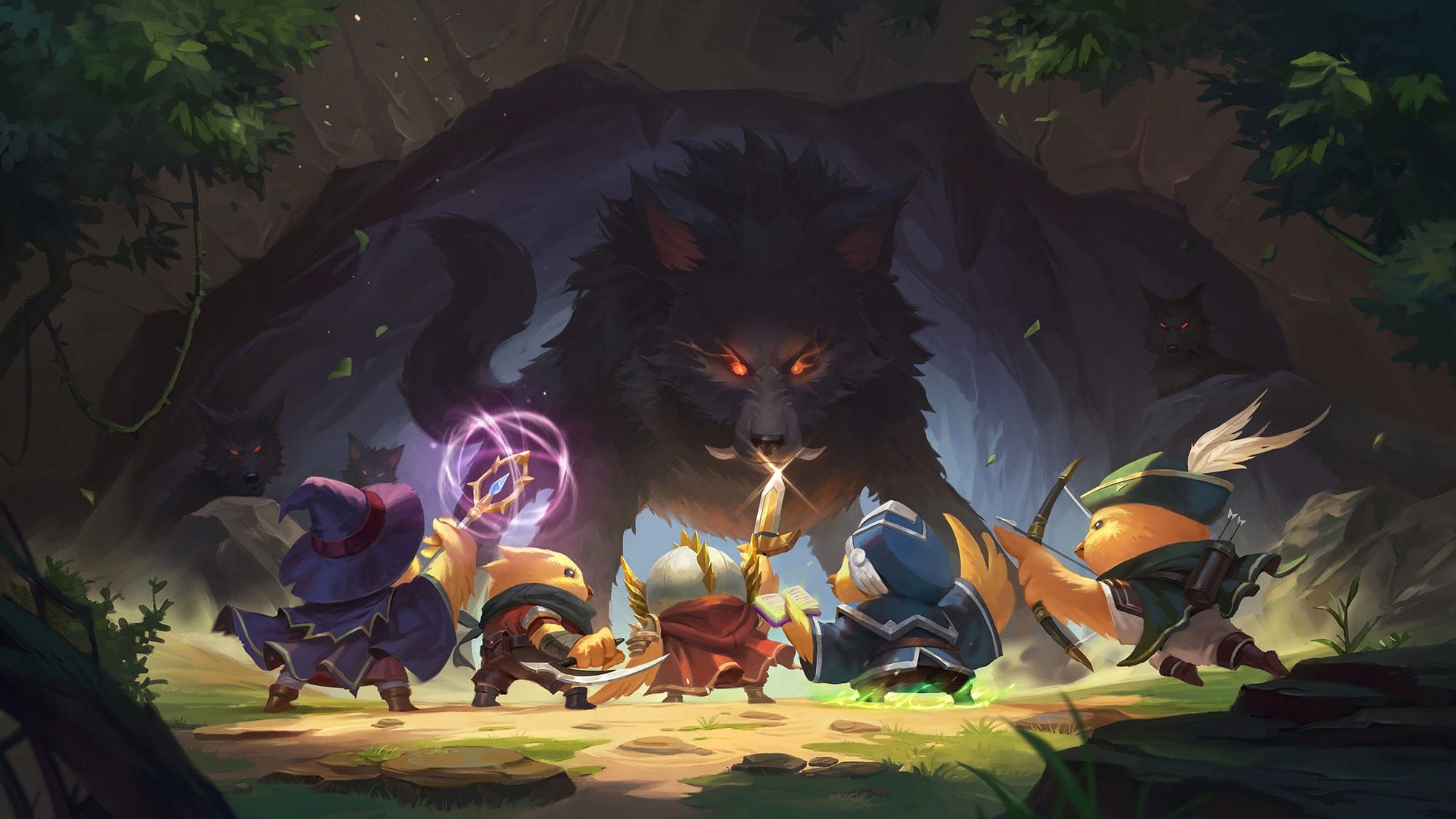 Our hero's story begins at his Proving. Starting out like any other Proving, with our wide-eyed protagonist all packed up and eager to join the Braves, like his brother did. Yet, under all this excitement were several, I should say, unsettling rumours.
For one, Lunaris Crystals have started forming out of control in certain parts of the continent. The crystals have started to corrupt plant and wildlife and the Braves are being stretched thin. To compound matters, a cult known as the Cult of Midnight Dawn is rumoured to be hidden amongst the SolChicks, spewing their truth to all who would listen and finding means of procuring all the Lunaris Crystals they could get their hands on. It is rumored that an Enlightened is involved with the cult. What is even more frightening is that Ancient Beings within planet Mellow who have their own designs and plans are being stirred from their slumber…
Back on planet Haxor, despite continuing their plunder of other stars, the Darkfangs' Lunaris Crystal reserves are running out. It's only a matter of time before they find planet Mellow…
To play, players will have to create SolChicks Game Accounts where they can load multiple SolChick NFTs into from their Solana wallets such as Phantom or SolFlare wallets, and the players will be able to use those SolChick NFTs as their character avatars. SolChicks Game Accounts will let the players accrue all their rewards through their accounts first, and then later transfer them to their Solana wallets.
SolChicks Saga is an NFT based game, and we encourage the trading and exchanging of SolChicks NFTs so that players will experience the breadth and depth that SolChicks Saga offers. At the same time, we would like for the players to be able to meaningfully monetize their time which they have spent playing the game. To this end, SolChicks has implemented the "dynamic NFT" system, which allows for dynamic update of the SolChick NFTs. This means that data such as levels and stats will be dynamically updated onto each NFT. In other words, if a player purchases a SolChicks NFT, they will not only get the NFT with the NFT traits, but also with its level, stats, elemental attributes etc.
NFT traits, level, stats and elemental attribute will be pegged to the SolChick NFT
Game progression and in-game currency (SolCoin) will be pegged to the SolChicks Game Account
Weapon & Equipment NFTs can be freely transferred between the holder's SolChicks Game Account and Solana wallet
SolChicks Saga will be launched in both mobile and PC versions simultaneously
Village and all other non battle systems
Controlled with joystick on the bottom left, and the rest of the control by touching on the objects on the screen
Mouse left click for everything (movement, NPC, etc)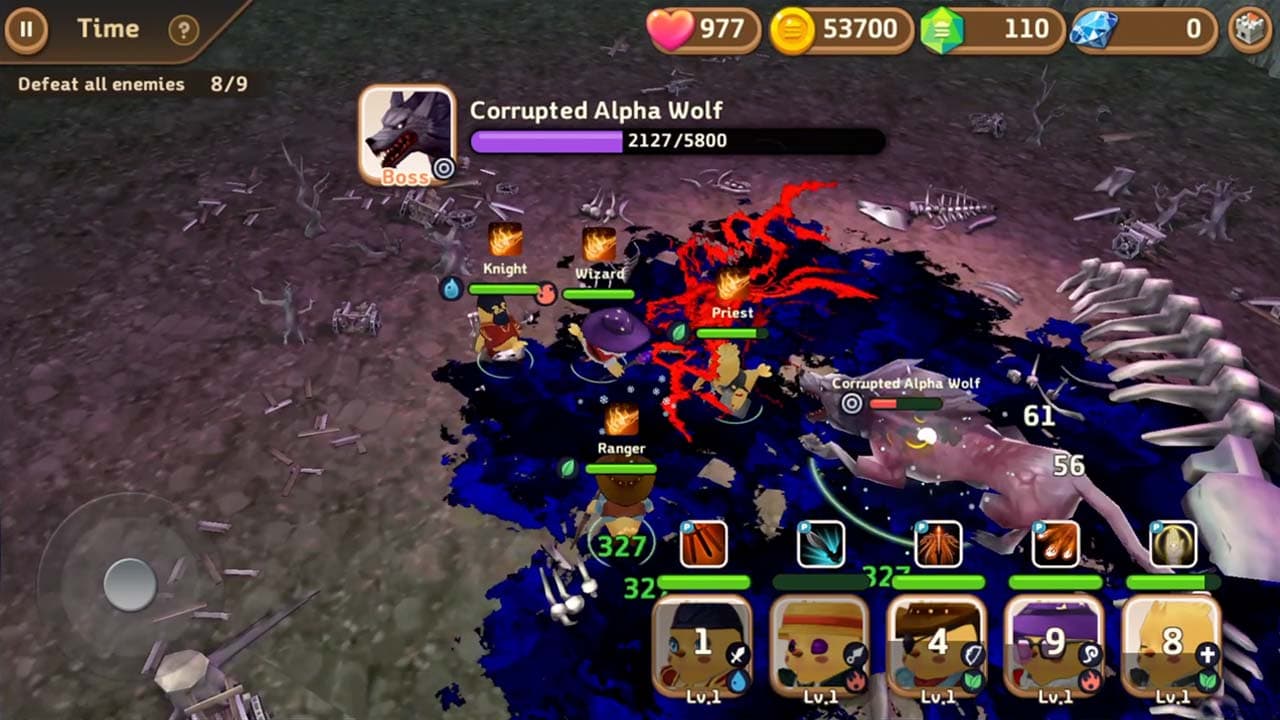 Movement is controlled with joystick on the bottom left, and skills are activated by tapping the bottom right skill icons
Mouse left click for movement, and either mouse click or keyboard shortcut key for skill activation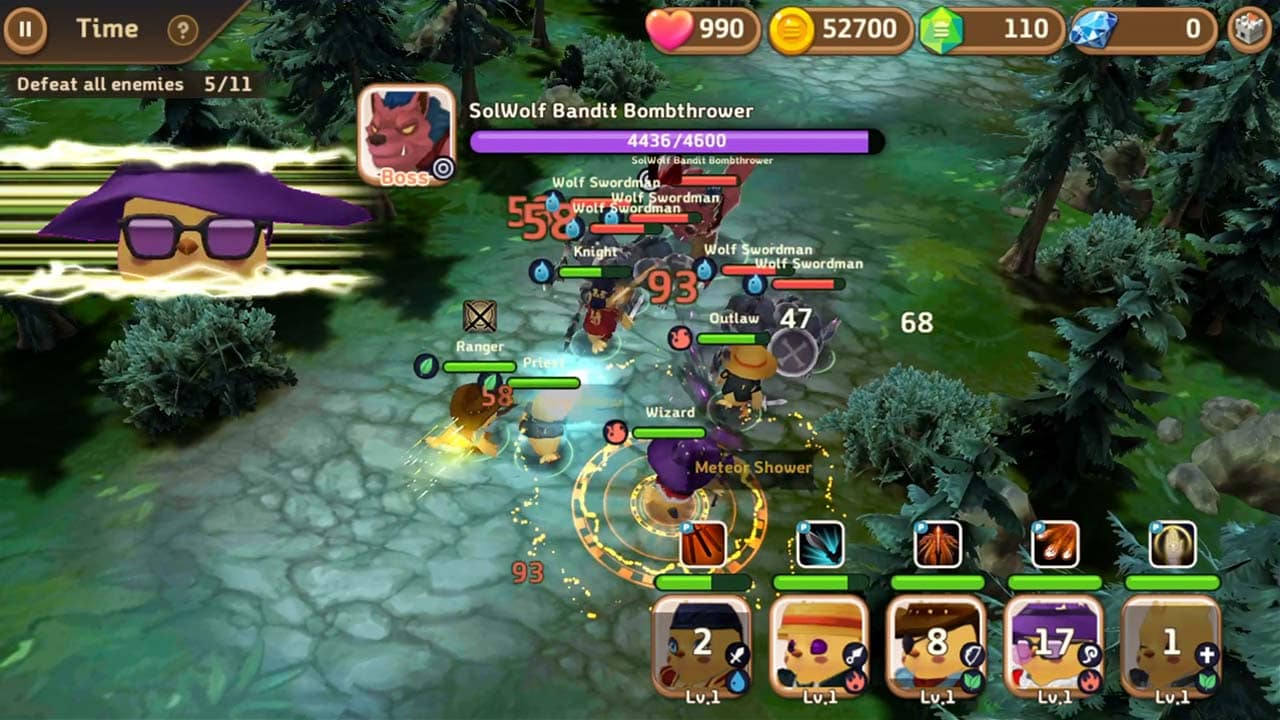 SolChick characters will run through the battle field automatically, and the user will control activation of the skills by tapping the bottom right skill icons
Same as above, except that skills can be activated by clicking the bottom right skill icons, or by using keyboard shortcut key
Lightfeather Village Story (PC)
Players start in the Lightfeather Village as Talonyr, a young aspirant looking to join the SolChick Braves. Lightfeather Village is a quiet sleepy town near the SolChick capital city on Planet Mellow, Swiftalon City.
Lightfeather Village is where the main characters and the back story is introduced, and where players interact with the NPCs (non-player characters) who are the sources of quests and quest rewards. Some of the other core features of the game such as blacksmith and merchandise are also done through the NPCs in Lightfeather Village. NPCs fill very important roles in SolChicks Saga, and players will find services from the NPCs to be essential for journeying through Planet Mellow.
When the player has received quests and have equipped to be ready for the journey, the players can access three game modes (PVE Adventure / PVE Raid / PVP) through the portals located in the village.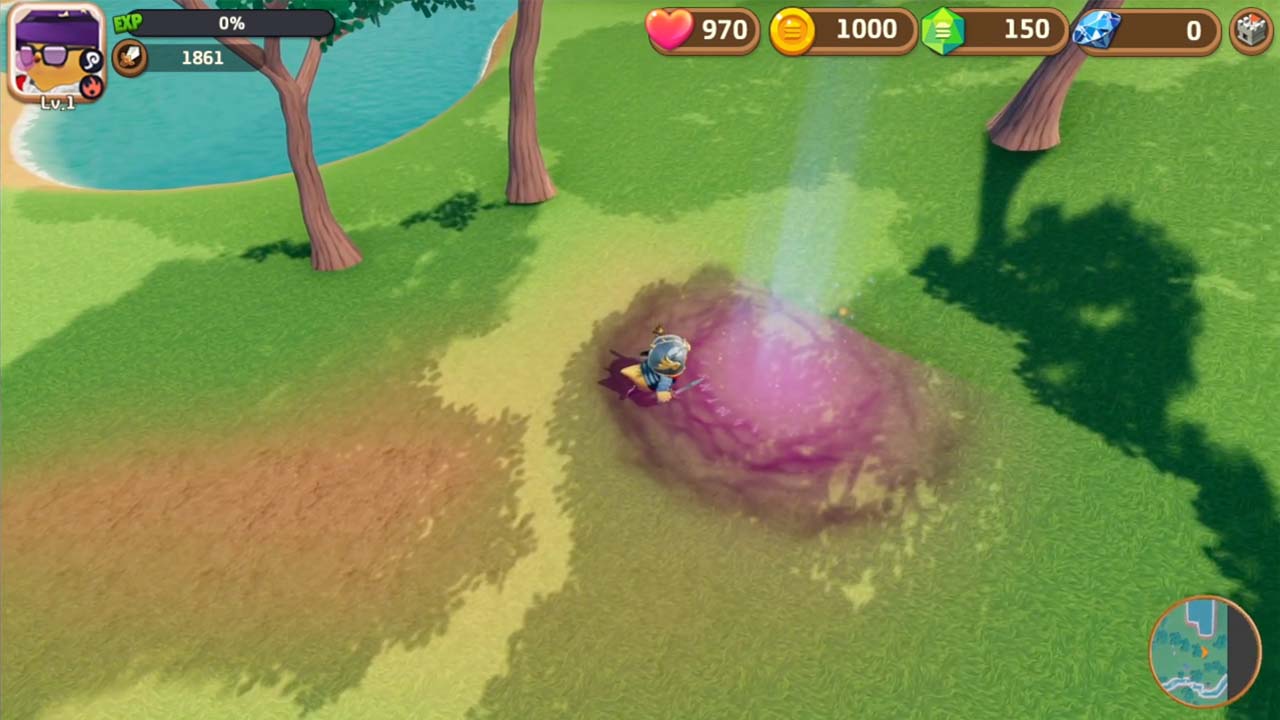 Adventure Mode is the main PVE mode which is across various chapters. Within each chapter there are around 10 zones. Each chapter represents a different location within Planet Mellow, and each zone within the chapters is a different setting within that chapter. Players battle against various monsters and enemies appropriate for their level and skill in each chapter and earn various rewards including $SHARDS, SolCoin, weapon/equipment NFTs, food, etc.
In Adventure Mode, players are introduced into the world of SolChicks and planet Mellow through an immersive PVE story mode. Players play as Talonyr, and together with his companions, embark on an epic journey across Mellow to discover his true identity and fulfill his ultimate purpose. The PVE mode tells the story of SolChicks, while allowing players to earn rewards and level up their NFT characters. In this mode, players battle against monsters and enemies to progress the tale of the protagonist. At the end of each chapter, players battle against a Raid Boss who is typically the main villain of the chapter (see Raid Mode section). After the player has gone through the Adventure Mode at least once, they may revisit the locations under Exploration Mode. Under Exploration Mode, players can go to all the areas they have previously visited for the story line, and continue to perform daily and weekly quests or just farm for rare items and materials without following the linear structure of the story. Exploration Mode will have adjustable difficulties to cater rewards and challenges appropriately for players of different skill and power level. Players can also restart from the first chapter, but with increased difficulty and earn more powerful rewards.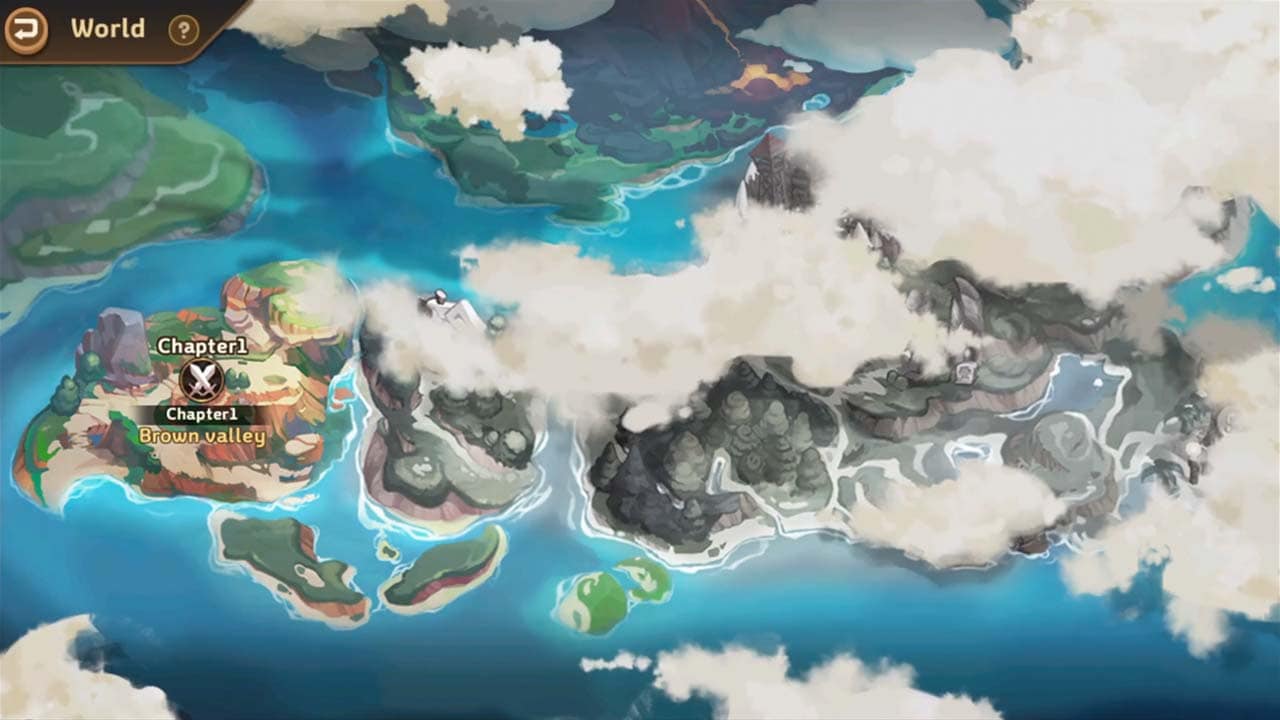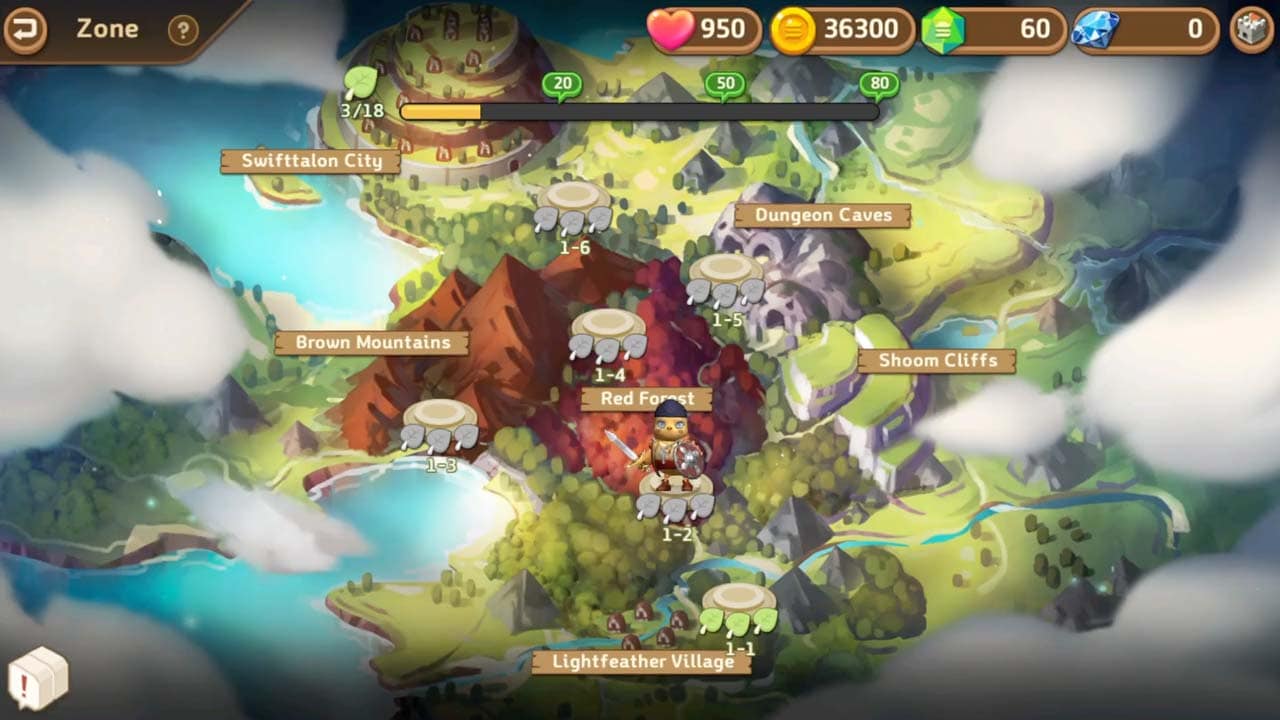 Story in the Adventure Mode is progressed as dialogues in each zone. The dialogues are mainly about the plot but may also contain critical information about the key strengths and weaknesses of the foes. For the players who just want to progress through the battle quickly, there is an option to skip all dialogues and just enter straight into the battle.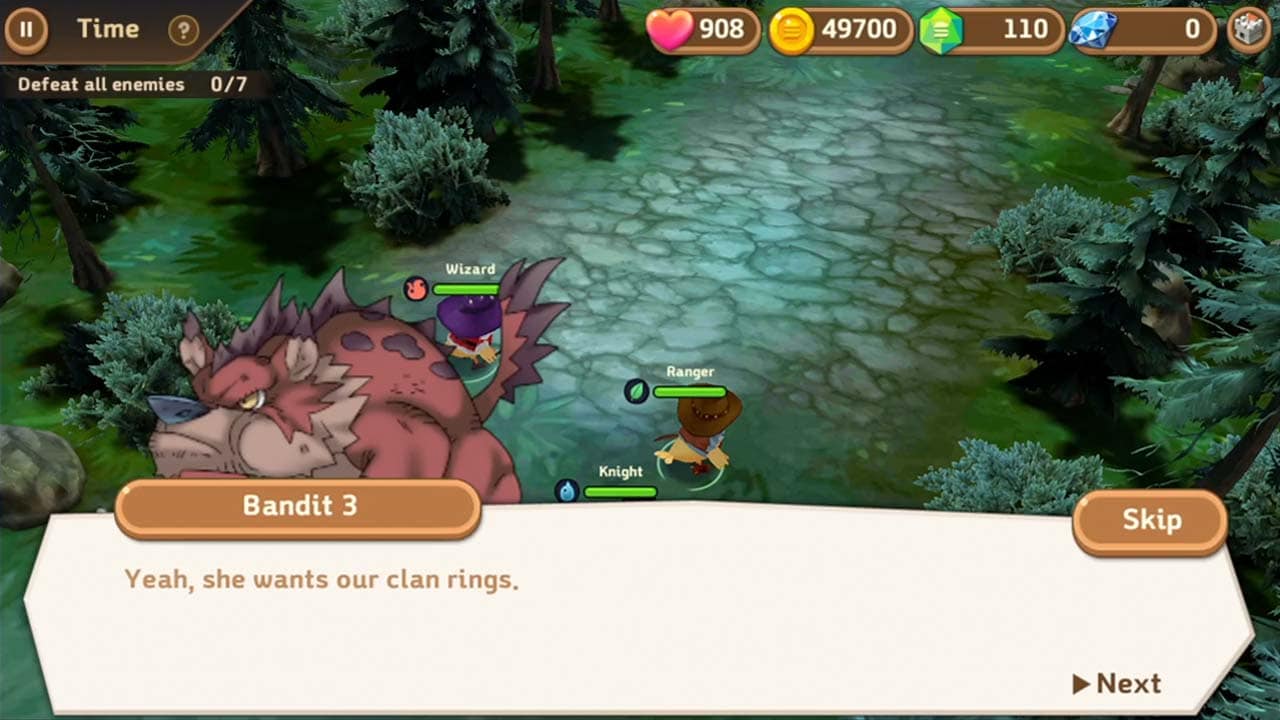 Forming a squad in the battle preparation screen
Battle in PVE mode consists of forming a team of five SolChicks, each with active and passive skills that can be used in the battle.
Players are allowed to edit their SolChicks party before every battle. When making a party, players will need to make a balanced team for maximum effectiveness. A good party would consist of SolChicks of different classes and skills so that they can cover each other's weaknesses and synergize with one another.
The effectiveness of the battle will also be influenced by what class of SolChicks is placed in what position in the battle line (rear, middle, front). Typically, tanker type of SolChicks (Knight) would be placed in the front position, and the supporter type of SolChicks (Priest) would be placed in the rear position of the battle line.
At the bottom right of the screen are buttons with the faces of each SolChick in the player's party. Pressing each button activates the corresponding SolChick's skills' which have cooldown timers. Players should time the skills well in the battle for maximum effectiveness.
For example, players should delay their skills when expecting a stun or interruption from the enemies, should not dump all the skills on one small wave of weak enemies if only one or two skills are enough to wipe them out, and should take into account which skills are effective for which type of enemies.
We had initially designed the game in its entirety using the movement control also for Adventure Mode, like we had in the demo game. However, we realized that it can be extremely clunky - the system was simply not a good fit for a P2E game targeting a more casual player base. The key issue was that too much of the game revolved around reflexes (and low latency!) as well as active control and grinding. What we settled on is currently what we call a "sweet spot", where we retain the "movement control" for the important and powerful raid bosses in Raid Mode and chapter end bosses, but we have also ADDED the "auto battle" style Action RPG system in Adventure Mode where players will still need to actively use their SolChicks' skills to battle normal enemies but there is no "movement control". Adventure Mode will focus on player's strategy in terms of class and equipment choices and timing the active skills strategically. Again, we would like to stress the "easy to learn, difficult to master" mantra that the team believes in. This change will allow us to simplify parts of the gameplay for a wider audience (which will hopefully increase the number of players who play and stay playing!) while focusing our efforts on delivering depth in story and play-to-earn system, as well as a variety of equipment and item systems.
Adventure Mode Gameplay Loop Example
Raids are designed to be short discrete experiences and can involve multiple players who band together against a raid boss. Raid bosses will intentionally be designed to be challenging even for the most experienced players. The raid boss will have innovative mechanics which will push the boundaries of mixing and matching of skills, weapons and consumable items in order to defeat them. At the end of each story chapter, there will be a raid boss that represents the main villain of the chapter.
In this mode, players control not only the skill usage of their characters but also control over the positioning and movements of their characters, adding a brand-new dimension to battle but also to boss mechanics design.
Raid Mode Gameplay Example
In player vs player (PVP) battle mode, the game will track each player through the Matchmaking Rating (MMR) system where each player's MMR will go up on wins and completing objectives. To enter a battle, the player will start from the battle lobby where players can select from their SolChicks in their SolChicks Game Account, as well as the corresponding equipment and items to optimize their chances of winning. Once done, players will enter into our matchmaking system and will battle against players of similar MMR to themselves.
After a battle is concluded, players will be rewarded with a loot box which can contain $SHARDS, SolCoins, items and equipment. The winning player gets a larger share of the overall loot. MMR will also be adjusted depending on the outcome of the battle.
Players can also, although not advised, flee from battle. However, fleeing from a battle will severely punish a player's MMR and also apply a cooldown between games which becomes progressively longer the more games fled within the 24 hours.
Note: PVP Mode is still under development, and will be included when the full version of the game
Stats / Elemental Attributes / Levelling System
SolChicks Saga aims to be a game that will be easy to learn but difficult to master. In this regard, we have designed a highly customizable yet easy to understand character customization system which caters to a variety of play styles and is conducive to experimentation and metagame evolution.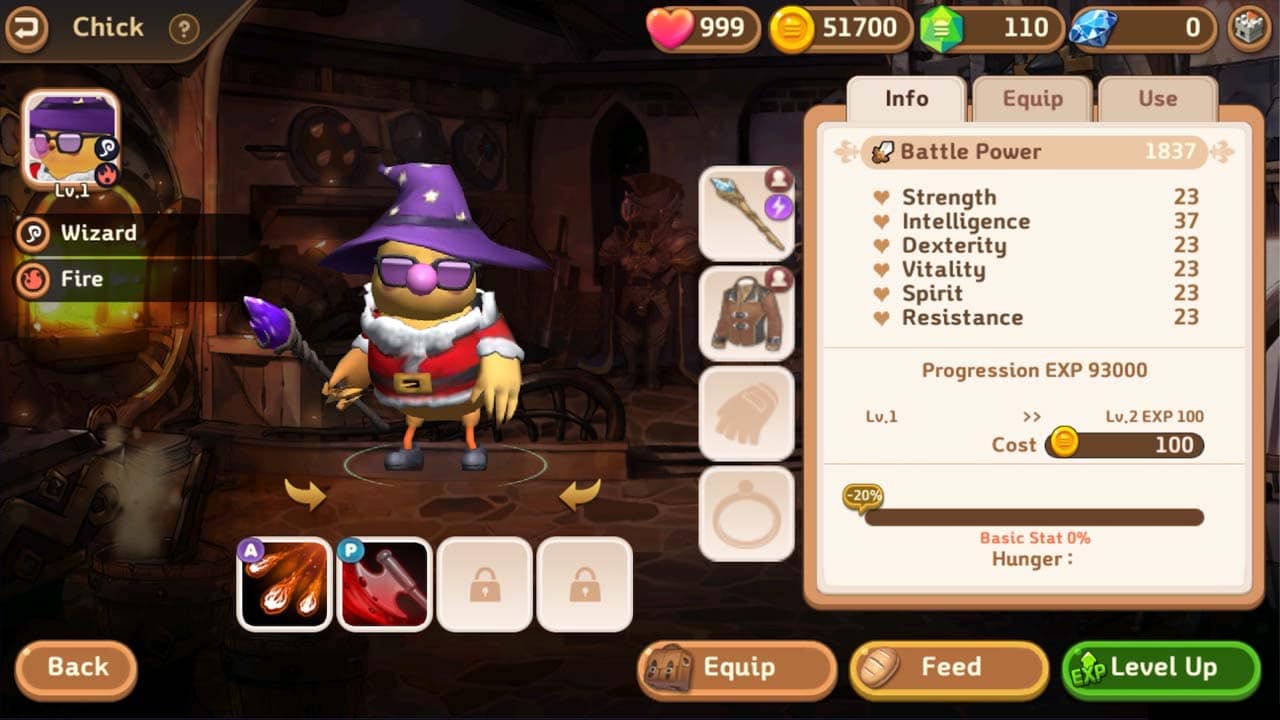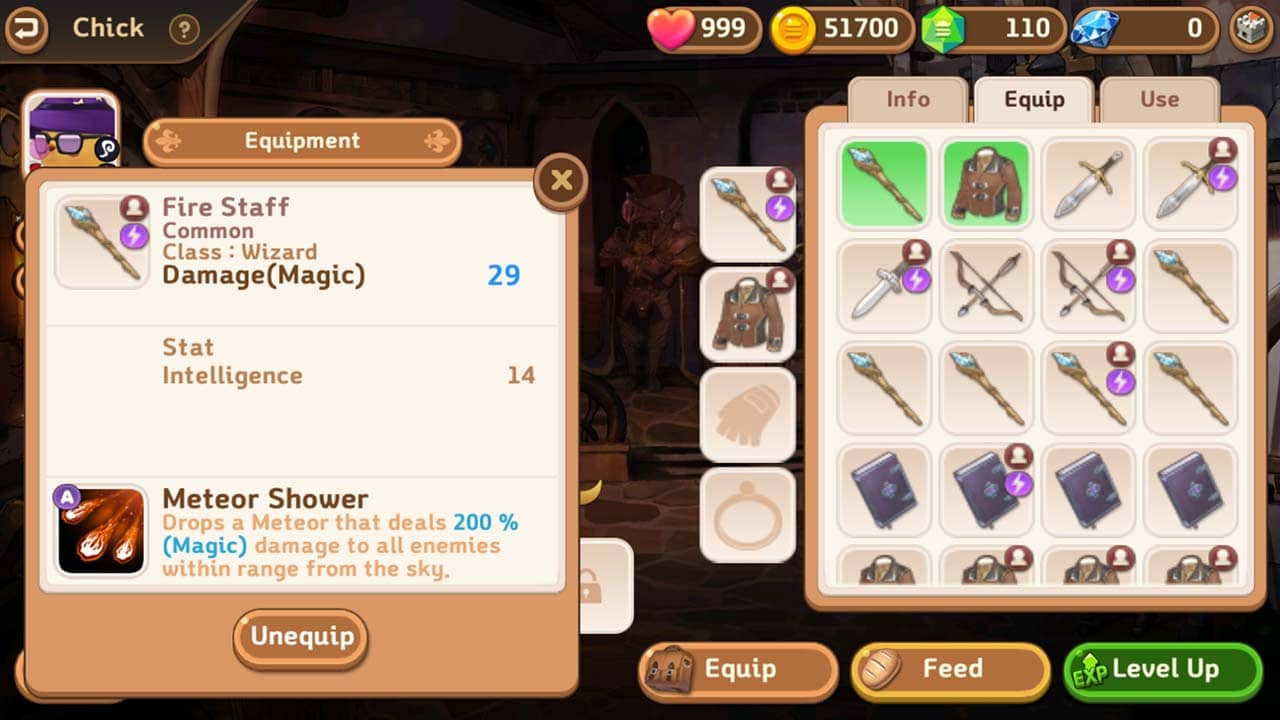 Primary Stats and Secondary Stats
Primary stats will be the core determinant of a SolChick's power level and will be mostly gained through levelling up of the SolChicks NFT (with further bonus from NFT traits) and will be further enhanced by equipment which are equipped to the character in the game.
There are 6 primary stats as shown in the below image (Strength, Intelligence, Dexterity, Vitality, Spirit and Resistance). Each primary stat will affect all the corresponding secondary stats in the table below which makes primary stats powerful and sought after though more general.
| | |
| --- | --- |
| | Physical Attack Damage, HP, Accuracy |
| | Magic Attack Damage, Evasion |
| | |
| | Physical Attack Damage, Physical Defence, HP |
| | Magic Attack Damage, Magic Defence, |
| | Physical Defence, Magic Defence |
At level 1, each SolChick has a baseline stat points distribution for each primary stat which can be further improved by the different attribute traits that the SolChick NFT has. For every level, the NFT will gain stat points which can be allocated to any primary stat which the player desires. This player choice will be saved onto the NFT and the choice is irreversible. Further, skills and damage effects will scale off the respective primary stat.
Secondary stats serve as further boosts to a SolChick's power level to give players an additional edge during battle. These stats will be improved either through NFT attributes or items and if synergized properly, will change the way players play their character. The secondary stats will not be shown in the NFT but only shown in game. For players looking for more targeted builds, which require more of a particular secondary stat, there will be items that enable styles of play where players make meaningful sacrifices to achieve their builds and dominate their battles. No player should have characters which have maxed out on every single secondary stat.
To push build diversity to the limit, we have also designed tertiary stats for the true min-maxing player that can only be increased with accessory equipment or rare enchantments such as critical attack chance, critical attack damage, evasion chance, attack speed and movement speed and many other fun effects which the player can discover.
There are 5 types of elemental attributes in SolChicks Saga: water, fire, grass, earth and none. Each SolChick character is given an elemental attribute based on the NFT's background trait.
The following diagram summarizes the elemental relationships, where "none" elemental attribute is disadvantageous to all of the below four elemental attributes.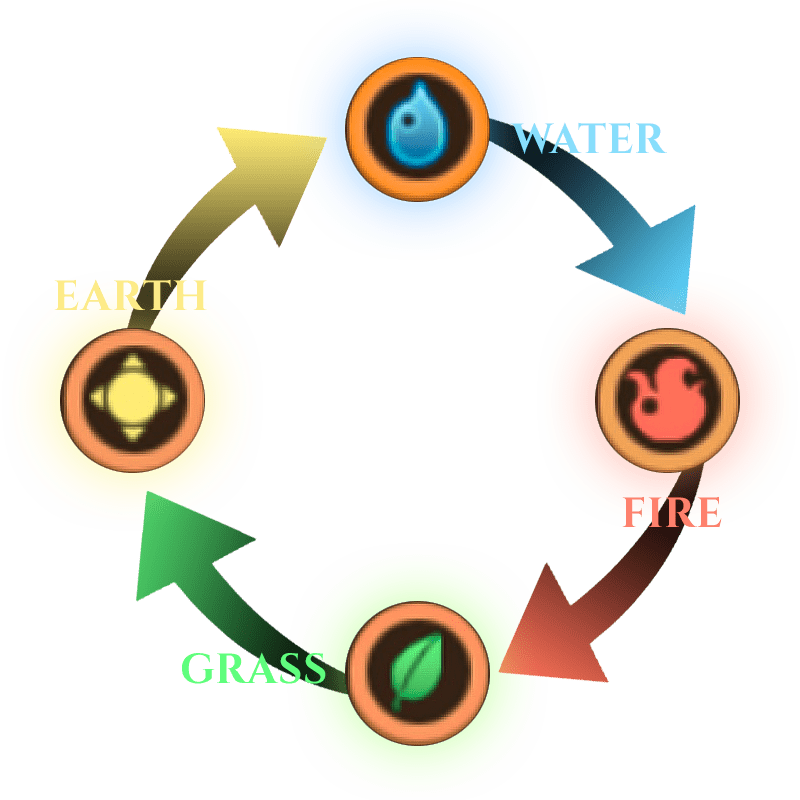 With this, players will be able to create a strategy depending on the enemies' elements
A character with an elemental attribute stronger than the enemy's elemental attribute will deal more damage to the enemy
A character with an elemental attribute weaker than the enemy's elemental attribute will deal less damage to the enemy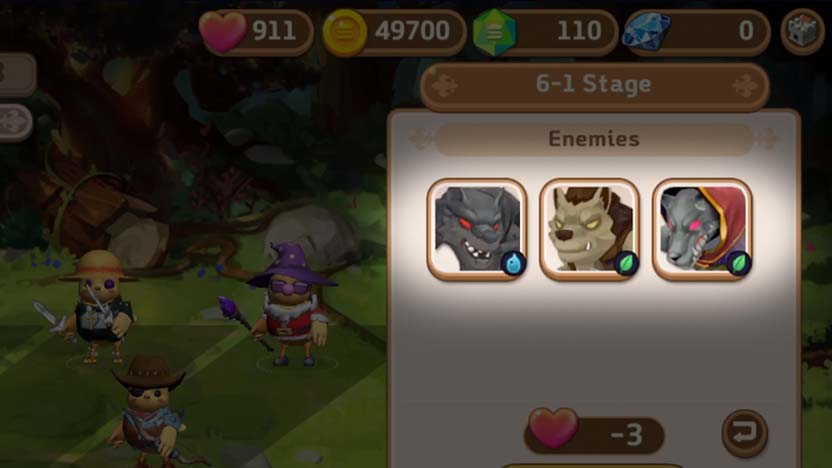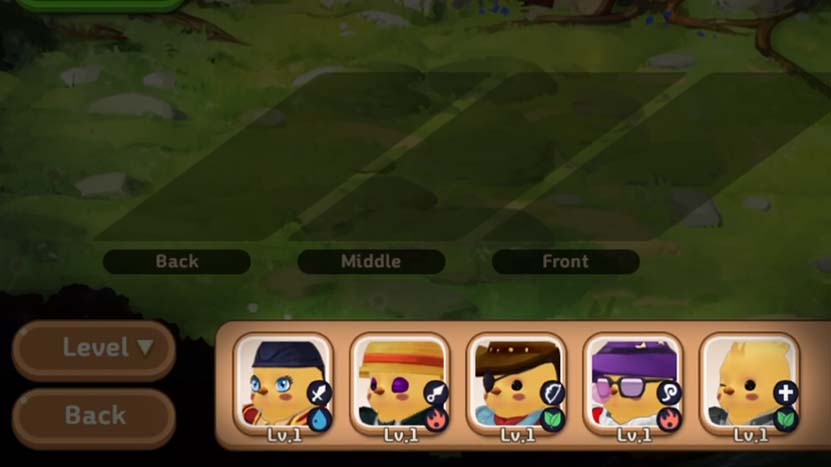 Winning in PVE and PVP battles accumulates Progression Experience in the player's Game Account. Player can level up the SolChicks NFTs by spending the accumulated Progression Experience and certain amount of $CHICKS, $SHARDS and SolCoin. SolChick NFTs' primary stats and battle power increases as the NFTs level up, and more Progression Experience, $CHICKS, $SHARDS and SolCoin are required to level up for higher levels.
SolChicks will have access to an arsenal of skills which can be used in combat to achieve a variety of objectives. In SolChicks Saga, skills will be classified by its utility as follows
Cast on command (e.g., Fireball, Sneak Attack)
Effect triggered when conditions met (e.g., Mage Ward)
Passive effect (e.g., Mana Well, Midas' Touch)
Skills have a base damage / mitigation / effect which are then calculated and compounded based on primary / secondary stats and other factors.

Meteor Shower
Drops meteors from the sky that deal magical damage to multiple enemies within the target area

Lightning Bolt
Casts a lightning bolt to deal a magical chain damage to multiple enemies

Dash Attack
Charges an enemy, dealing physical damage to enemies nearby the target (short stun)

Shadow Strike
Strikes from the shadows behind the farthest enemy, dealing physical damage with debuff effect

Piercing Arrow
A powerful shot that deals 300% physical damage to one enemy

Meteor
Drops a powerful meteor that deals 300% magical damage to one enemy

Healing Circle
Heals all party members over 3 seconds

Rain of Swords
Summons a magical rain of blades from the sky, dealing both physical and magical damage to multiple enemies within the target area
Passive Skills (Examples)
Skills can be acquired by spending skill books to bind skills to weapons and equipment (see Weapon/Equipment System section).
Skills that have been equipped cannot be swapped out during a battle, and every skill will come with a cooldown time so as to prevent button mashing and encourage experimentation. In general, the more powerful the active skill, the longer its cooldown will be. It would not be wise to equip powerful spells with long cooldowns on all of your characters since it would reduce the nimbleness of the player's party as they would not have the right spells do deal with smaller by more constant threats. There could also be a short global internal cooldown added to balance out lag between players but at the same time preserve the dynamic nature of the battle.
Weapon / Equipment System
SolChicks is an RPG game at its core, and one of the most important things is to balance out sources of power for the character. While the base NFT character provides benefits in terms of greater stats, power, and higher earn rates for the players, equipment also plays an important role in determining the player's power level.
The primary values of equipment are the skills that can be bound to the equipment and boosting of the stats of the SolChicks characters, which will promote more varied styles of play. Equipment can be found through questing, crafting, or as rewards from PvE and PvP battles. All equipment can be minted as NFTs and be traded on the marketplace.
There will be four equipment slots (weapon, primary armor, secondary armor, and accessory). Certain equipment will have certain requirements to be equipped (levels or stats), and skills that are bound to the equipment will also change the equipment requirements. The equipment type will also determine the class of the SolChick. For example, if the player equips the Wand onto a SolChick, the SolChick will be designated as a Wizard class and have their damage scale with the intelligence stat.
| | | | | | | |
| --- | --- | --- | --- | --- | --- | --- |
| | | | | | | |
| | | | | | | |
| | | HP, Defence (Physical, Magic) | | | | |
| | | | | | | |
| | | Critical attack/evasion chance, attack/movement speed | | | | |
There will be five rarity tiers for equipment: Common, Uncommon, Rare, Epic and Legendary in ascending order of rarity. Like in many RPG games, the tier of the equipment will determine its base power level and also its likelihood for a player to obtain. The rarity of the item will be shown in the item icon (for example, grey could indicate Common, while orange could indicate Legendary) as well as in its item tooltip. Rarity tiers for an equipment cannot be upgraded (for example, an Uncommon can never be upgraded to a Rare).
(These 3D weapon and equipment NFTs will be integrated into the game)
Primary/Secondary Armour and Accessories
Besides rarity, each piece of equipment also comes with a level which can be gradually upgraded by the player to a maximum level of level 10 (from the lowest of 1). Players can disassemble existing equipment to acquire crafting materials used in crafting and upgrading of equipment. Crafting materials will also have a rarity tier (Common, Uncommon, Rare, Epic and Legendary) based on the rarity of equipment being disassembled. For example, if a Rare equipment is disassembled, the player will obtain Rare crafting materials. These crafting materials can be used to upgrade the equipment to increase its power level, which is displayed as a "+x" number on the top left corner of its icon.
This can be significant because a high-level Uncommon weapon could be more powerful than a low-level Rare weapon. Further, any in-game upgrades at the Blacksmith will alter the NFT metadata and is stored on the blockchain, creating another way for players to create and earn value through playing the game.
However, there are risks to upgrading equipment as there will be a certain probability for an upgrade to fail, and possibly even destroy the equipment in the process.
Players can bind skills to their weapons (active skills) and primary armours (passive / trigger skills) through the blacksmith NPC. One skill book is used each time a skill is bound to a weapon or equipment (the skill book is destroyed in the process), and it will be random what skill will be bound. Therefore, it may require multiple times of skill binding until the desired skill is bound.
To add more strategic elements to the battle gameplay, there will be consumable items that players will be able to use in combats. Consumables items are, as the name suggests, limited use items which will have various effects upon use. Examples of consumable items that can be used in combats include potions (health and mana recovery), boosters (for temporary power gain), elixirs (overall boosts to power level), bombs (damage / debuff), utility items (shield / curse), etc. There will also be consumable items that can be used outside of combats such as skill books as mentioned above and food items which a player can use to feed their SolChicks characters. Players will be able to collect consumable items as they play the game and some of them may be tradable on the marketplaces.
Players can interact with their SolChicks by feeding them. Although SolChicks can theoretically never starve to death, there are penalties if the Solchicks are unfed for a period of time. Conversely, there will be benefits if the player keeps their Solchicks well fed.
Players can feed their SolChicks food such as SolFeed and Lobster Bisque etc. which provide certain amounts of happiness and hunger points. Similar to real life, feeding is subject to diminishing marginal returns. In other words, food should be fed at regular intervals and not all at once to be most effective.
Players can check which missions they have accomplished and receive the rewards through the NPCs in the village.
The mission system is a way for players to passively unlock achievements as they progress through the core of the game. Missions will be divided into Daily, Weekly, and Main mission objectives. Players can check which missions they have accomplished and receive the rewards through the NPCs in the village.
Daily and Weekly missions will be reset every day or every week, and once completed in a given period, the player cannot re-complete the objective until it resets.
Main missions will be one-time missions and will not be reset (such as defeating the chapter 1 boss monster, defeating 100 monsters in total, etc.).
There will be one list of missions for each Game Account, meaning all missions will be shared across all SolChick NFT characters and imported to the saved account.
The mailbox is where players receive presents or various notices from the SolChicks development team as they complete milestones and content in the game.
SolChicks Story: Monsterpedia