How to Claim or Buy $CHICKS
Please read through the following announcement and guides before entering our Token Claim Dashboard.
Our $CHICKS Token Claim Dashboard will be available near the bottom of this page.
If there is an issue with the claiming process, please submit the following Google Form:
Dear SolChicksFam,
This is an important announcement relating to our listing following the Token Generation Event (TGE) on 2:00 PM UTC Monday 13th December 2021.
At TGE, seed, private and public investors will be able to claim their initial allocations on our website. Those who missed out will be able to trade $CHICKS tokens on Raydium (DEX) or MEXC (CEX) shortly after TGE. We want to express our gratitude for the support we have received since we started this project. We have recorded incredible success in our IDO and have received overwhelming support from our investors, partners and the #SolChicksFAM community.
Contract Address:
$CHICKS – cxxShYRVcepDudXhe7U62QHvw8uBJoKFifmzggGKVC2
$bCHICKS – 0xD98E4A15DDd0CC602b05b13c4801A2BBccb964e7
Please be careful and vigilant for scammers and impersonators. Only access links from our official website. No one from the SolChick Team will message you first.
Token Generation Event will require those that have received allocations through our seed, private or public rounds to go to our official website (solchicks.io) to claim their tokens. An initial proportion of tokens will be unlocked at TGE, with the percentage depending on the round at which you invested in. Afterwards, the remaining tokens will unlock every month on a linear basis until the end of the relevant vesting period for each round. Please note that seed and private investors have a cliff between the initial unlock and first month of vesting.
In the spirit of transparency, we've provided the following addresses that will receive tokens at TGE as per the terms of the vesting schedule.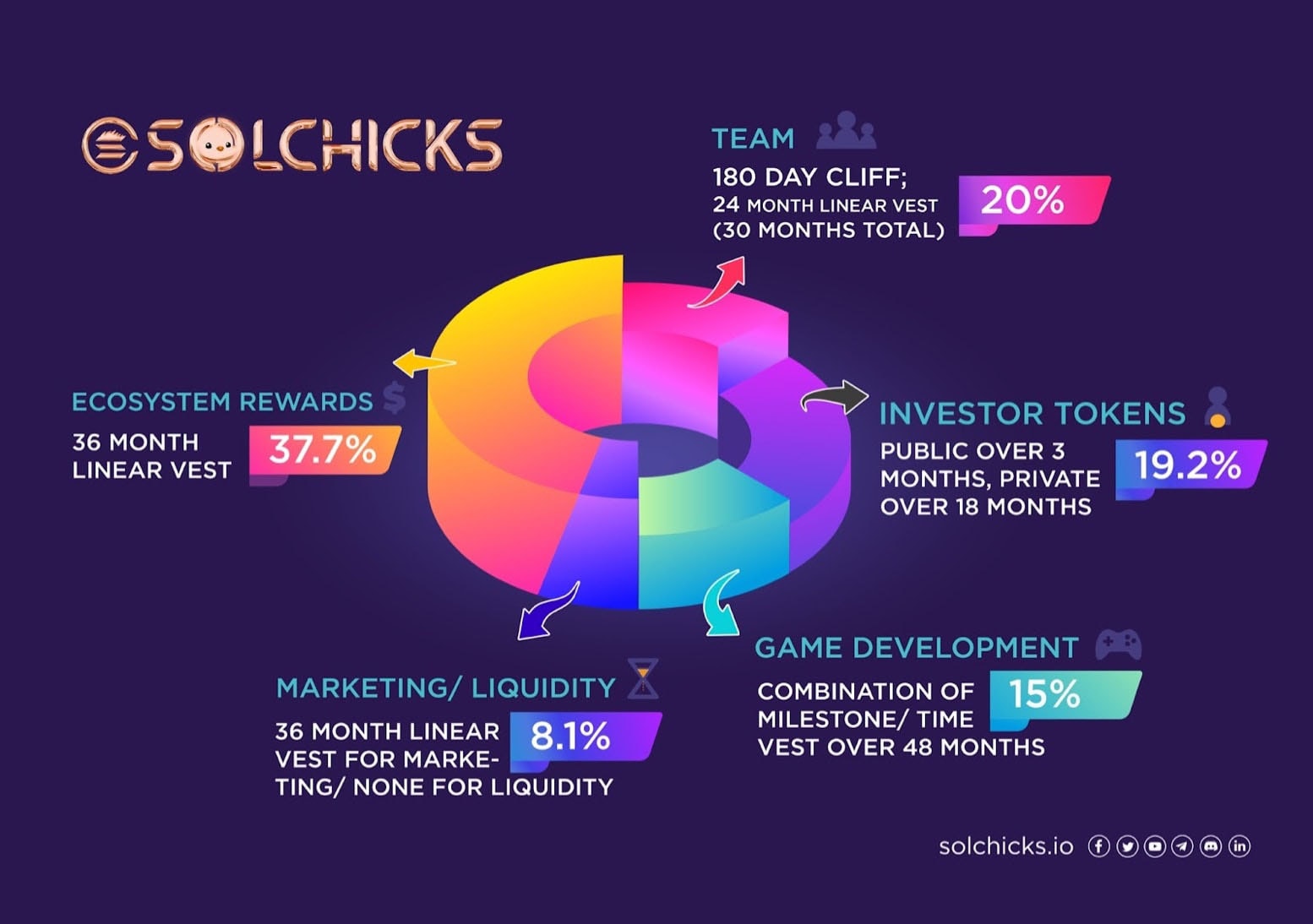 42XxgKLXy1pkw75dFCy4VsLz7h4X3CaE6zttxcWfaRHi

LjwxNRnmut6PhN2g6a5MJPxKCjbC9wP1XvFeFqdLSpg
AEh3ykGEcPyyW6mDDL6CajkbbogXvqSXeNggrpv9j6DJ
99PGjXLmNKHRJgRXj5HKqbGXUayAQXo24b3ccxWTDEQL
7hVSgDgECjN4wEaJrAraGwxq3A4iL5reRye6v2aVGQHs

Cf8emyeUaUow4mx3ZPnAQaqRMbwszzkL4ZJDTbLPq9q9
BvHYhGr2hUHQFsEnX6HUQuNZ6WKaNcQr3UVyEHq8xUwC
6KMsuFVPtTe7kT4QuPzbftUCNDggZ7ftbB5WNoBN9djq

4wQu5PEk5LcbBqtPT3tu9JMJZUo51XvtAwA7CX87BcFL

41TGQ3BDTE1VMMWFy5vVsRvJ6mGEBVqrNKcq54M7zUnB
3RBh7dXHkxG42y4c7249QdoFjcGy7AYK4idU75NzYJKV
9mye37dMXDkGxVpTvCLs68rXaWfEaraMm2waJym27iza
7zHRMDhN4NMUV5J1uRZCZSw1Ne7fiV9SvXHRymgVNrfE

8Xgp3bLeT1xu9z9CtoXu4JNBfNhuNDgvkHi4i5huaUkC (Raydium)
CnxvgWounkyBymoHGA7PJtgy2dowrBxXQcorh4ijmyC7 (Orca)
B18uytnzZqV36CxQppiaGHVwXZhK6J3scJpkdCJKtLvy (CropperFinance 1)
2oteDKqxtBzfkxQAS7HHiZzkP2JFMEKQy1eU53gt8Gi9 (CropperFinance 2)
1. How to Claim your $CHICKS from our website
1-2. How to Claim your $CHICKS from our website
(for Trust Wallets)
If your contribution was made with a Trust Wallet, please follow the steps below:
Create a

Solflare wallet

using your "Trust Wallet Secret Phrase"
Make sure you have at least 0.003 SOL in your wallet for a one-time fee for $CHICKS token account generation (this applies to all Solana wallets)
Connect your Solflare wallet to our Token Claim Dashboard.
Claim your unlocked $CHICKS tokens.
PLEASE NOTE: Your wallet must have at least
0.003 SOL balance (0.002 SOL + fee) for the "one-time fee" for $CHICKS token account generation
, which is the Solana standard. Please give a few minutes after loading your balance to be able to successfully claim your $CHICKS tokens.
2. How to Buy $CHICKS on Raydium
SolChicks is excited to be working with Raydium, a leading protocol among Automated Market Makers (AMMs) built on the Solana blockchain using the central order book of the Serum decentralized exchange (DEX) to provide next-level liquidity and light speed swaps. We look forward to delivering an amazing experience that is transparent and fair to everyone participating in the Token Generation Event.
3. How to Buy $CHICKS on MEXC
SolChicks has partnered with MEXC, a reputable centralized exchange (CEX). MEXC platform offers mega-transaction matching technology and unparalleled convenience. MEXC is available in over 70 countries and remains one of the most secure exchanges on the market.