You are probably scrolling through the results pages on the Internet, wondering the best play to earn games you can try right now. Everyone does! Because it's exciting and a relatively new phenomenon, they're getting more and more attention lately. Why wouldn't they? They combine the two best worlds – play games and earn money.
Because they rely on blockchain technology, they are also often tagged as:
crypto games,
NFT games,
blockchain games.
Why are they so popular? Well, apart from the opportunity to earn something while playing online, it's based on several factors. But, to cut to the point, we will name the two most important ones: 1) rapid developments in the NFT market and 2) considerable breakthroughs in metaverse technology. That means that players and metaverse enthusiasts can enjoy themselves in the world created with the sole purpose of entertaining.
Whichever way you look at it, these circumstances opened some brand new possibilities in gaming and led to exciting and unique applications of the blockchain. Moreover, these opportunities have significantly impacted the emergence and evolution of play-to-earn games. So let's see what these games are about in the first place.
What are Play to Earn Games?
Play-to-earn games (P2E Crypto Games) are, as their name says it: games you can play to earn money. Let's put that in more precise terms – cryptocurrency. Before you say these are not the first video games ever, you can make money off, that is true. But, what makes play-to-earn games distinct, though, is very different in-game economics and specific underlying technology.
Why does that matter? Let's look at it this way, the traditional way the players would earn money would be to deal with their bank. Now, everyone knows how long that takes and often gets frustrating. But, in the end, all the player wants to do is bring home the prize. Right? That's why blockchain technology and cryptocurrency changed everything, you win, and you get your award almost instantaneously.
What about the valuables? Most of these games will require some sort of initial investment, either in the form of an NFT you'll buy from the developers or in the form of cryptocurrency native to the game. However, you have to be aware that some games will charge transaction fees and "gas fees," but you can potentially make much more money than you invested, which is one of the main appeals of the play-to-earn games.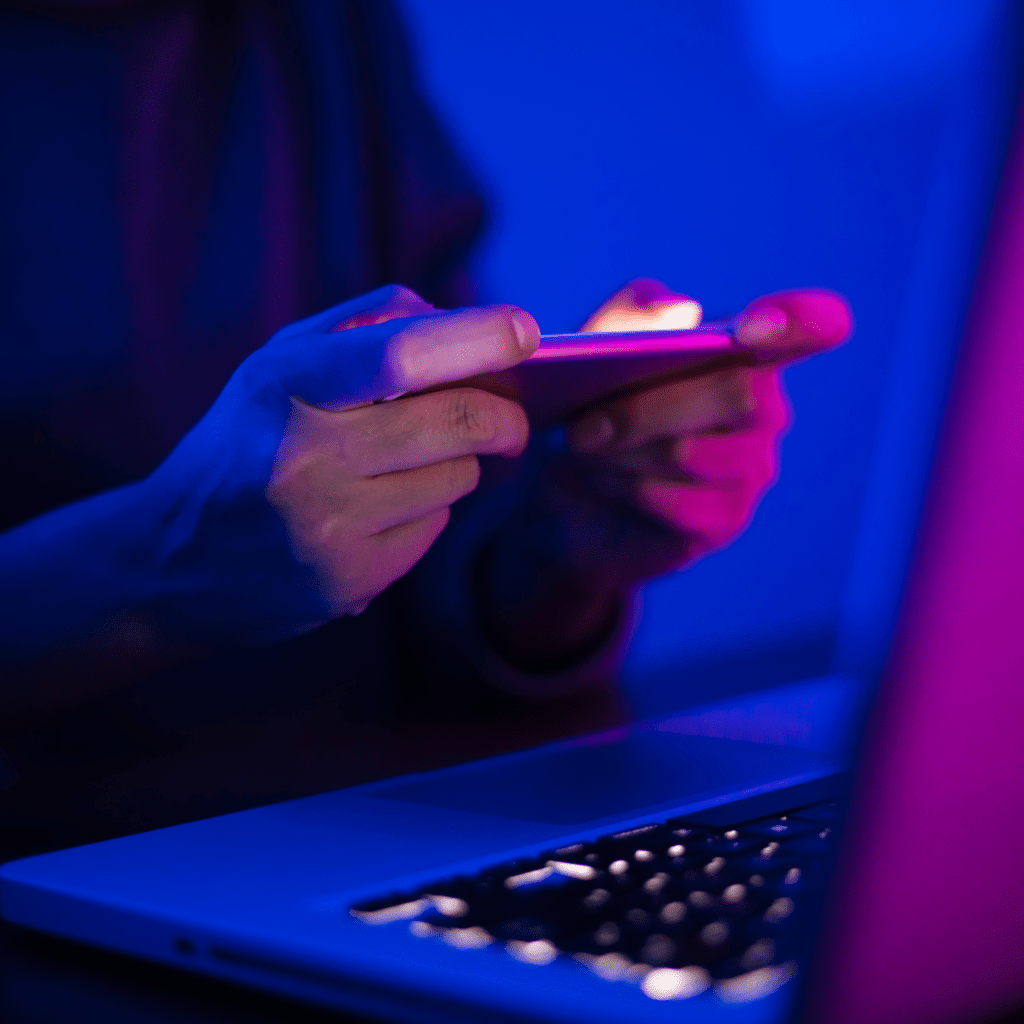 Ways to Earn Money in Play-To-Earn Games
Now comes the exciting part! There are many ways you can profit from blockchain games, and they'll depend on their genre or the in-game economics of each game. Let's name a few methods you can make money in play-to-earn games:
Buying and selling NFTs. For instance, most games will create your avatar as a unique token. You can improve it and customize it through the gameplay. To make things sweeter, you can eventually sell your avatar for more cash. In addition, there are many in-game creatures, items, and even pieces of virtual land that have the value of NFTs.
Farming. If you are a simulation game lover, the games get more realistic. They allow you to make monthly income by selling your crops, minerals, or other resources.
Completing quests. It's thrilling going on an adventure, doesn't it? Some games may offer you to handle daily tasks or other missions. That means you have the opportunity to collect rewards once you complete them, much like in traditional games. However, blockchain games reward you with coins or in-game items you can later sell for real money. 
Winning contests. Tournaments are often a way to get the community together and compete for the ultimate prize. While immersing in the best play to earn games, players can get regular rewards on the leaderboard. On the other hand, others organize tournaments where the top players take their prizes.
Staking. That means you can lock your coins inside a game or specific object for a predetermined period. After that time, you get more coins in return. Pretty much similar to depositing cash in a bank.
The game does not stop there. Because each one of these methods branches out and offers different variations and innovative solutions on how and when to reward players. Let's say that more monetization options are yet to come. People uncover new possibilities with blockchain technology. Sure enough, the games will get the first glimpse because of their global popularity.
What's the Importance of Games Built on A Blockchain?
True, there is so much hype right now because of blockchain technology and its versatile use. So why are these play-to-earn games so important? The main difference between them and regular video games is that they are based on blockchain and therefore use cryptocurrency such as Bitcoin as in-game currency.
Apart from the speed of collecting rewards, blockchain technology offers some advantages via special features, and they are the complete opposite of traditional games. Therefore, you can say that these games offer much more benefits to players than the regular ones would.
The NFTs you buy or sell are actually owned by you. Despite the general belief that these tokens exist in the constrained world of particular games, nothing could be further from the truth. They are like independent entities free to be transferred from one game to another and used as the player wishes. That means that even if a game shuts down, it often happens. The players are free to use these unique tokens as they please.
Blockchain games are more secure and immune to hacks, fraud, and corruption. Why? Because blockchain technology is decentralized, information is stored in the digital ledger, no person has control. All of the data entered in the log is irreversible, and no human can alter it or use it unlawfully.
Governing the digital space is not easy, but it's possible. Certain games based on decentralized technology allow you to preside over the in-game worlds or communities. However, it is all based on how many native coins you have in your wallet.
NFTs that players trade are usually scarce. Much effort is made to build NFT to a particular value, and very few players decide to let go of them. Meaning they are not unlimited as in traditional games. So thanks to the simple law of supply and demand, their value can get extremely high.
Everything you Need to Know About In-Game Items
In some gameplay of traditional video games, you get a specific weapon or something handy, and it seems like you just conquered the world. Yep, that feeling is the best, but a whole lot different from playing to earn games.
In-game goods are purchasable weapons, shields, or even skins, as they are called popularly. Each one offers different features and benefits, such as making a character more potent or aesthetically unique. Now, game developers see these as digital goods that enhance the player's experience. But, in truth, you play a game to achieve a goal, and that goal is a lot closer if you have additional assets such as these.
Now, there are two ways you can acquire these:
Through gameplay by levelling up after beating the nasty monster, figuratively speaking.
The second way is to simply purchase them on the market.
Why do players like these? Well, it's pretty simple, everyone wants that special armour to change their character from plain to a legend. That sounds great, right? But, on the other hand, you have skins, which have been wildly popular in the past few years, because it allows a certain level of individuality.
Some of these unique items mark a specific breakthrough in the game, for example, clothing you gain after playing the game for a certain amount of time. Maybe it does not sound like much, but it represents a badge many boasts of. However, some unique clothing items and accessories are sold for thousands of dollars on the markets. Surprised?
Most of these sell for currencies active within the game. However, some are available for real money and even gift cards. Yes, it is strange. Each game developer generally has its own market for these items, but independent needs are. You can search the Internet for these platforms.
Lastly, there are tradable cards that you can sell for real money apart from these. Many people decide to sell these, and they are available all over the Internet. They are often called Steam cards. Each account has Steam-related items earned through achievements.
Each card has an estimated value; however, you can click a button and choose to sell it when selecting it. Additionally, you can decide on the asking price regardless of what was previously said.
As you may know, the games were monetized in the past by selling high-ranking accounts and then starting all over. But now, each NFT item is yours, and you can trade it or sell it as you wish. Needless to say that the gaming market has been worth billions in the past two years alone, thanks to play-to-earn games.
Places To Look For A 8 Best Play-to-earn Crypto Games In 2022
There is something about firing up a computer and turning on the games you like to play. It's like transferring into a different world, and all your focus is there. Now, add the fact you can make money within gameplay. Life couldn't be better. Well, based on that, take a look at the eight best play to earn games.
Axie Infinity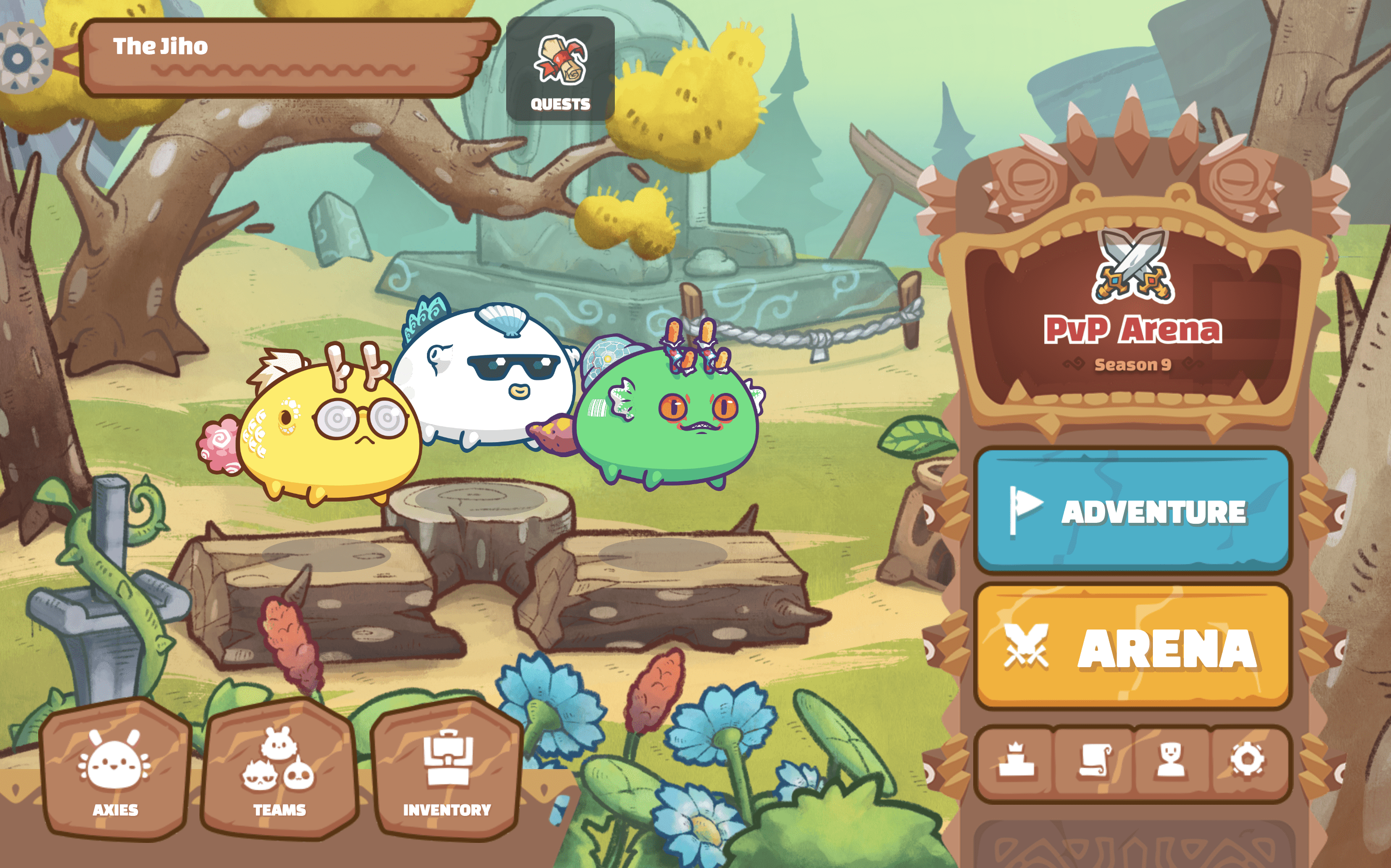 Axie Infinity is a global hit and a blockbuster among play to earn NFT games. However, it's one of the few that genuinely entered the mainstream and caught the general public's attention. It was created by a Vietnamese company known as Sky Mavis, and so far, it is rated as one of the highest revenue games on the market.
The main center of this hugely popular Ethereum based game is Axies – creatures that have a slight feel of Pokemon or Tamagotchi inspiration surrounding them. Axie Infinity offers a pay-to-win mechanism in which users may make money by fighting in PVP battles, raising Axies and selling them in the marketplace, or collecting rare ones.
Despite their cute looks, each Axie has different traits that determine their strength, role, and, at the end of the day, their value. What's the difference between them? For starters, each one has four types of stats: Health, Morale, Skill, and Speed. They have six changeable body parts: eyes, mouth, horn, ears, back, and tail. Lastly, each Axie has nine different classes. Axie is an NFT that can be sold or purchased depending on its value.
The main currency in the game is Axie Infinity Token (AXS), and there is another, the Smooth Love Potion (SLP). There are many paths to earning money in Axie Infinity. For example, you can farm and sell in-game items, most prominently SLP. You can also earn SLP by completing quests and fighting monsters or other players.
There's always a buyer in a community of 2.8 million active daily players. And the most expensive Axie was sold for 300 ETH, which amounts to more than $1 million! The market cap of AXS alone surpasses $4 billion, which puts it in third place among all the play-to-earn tokens.
Solchicks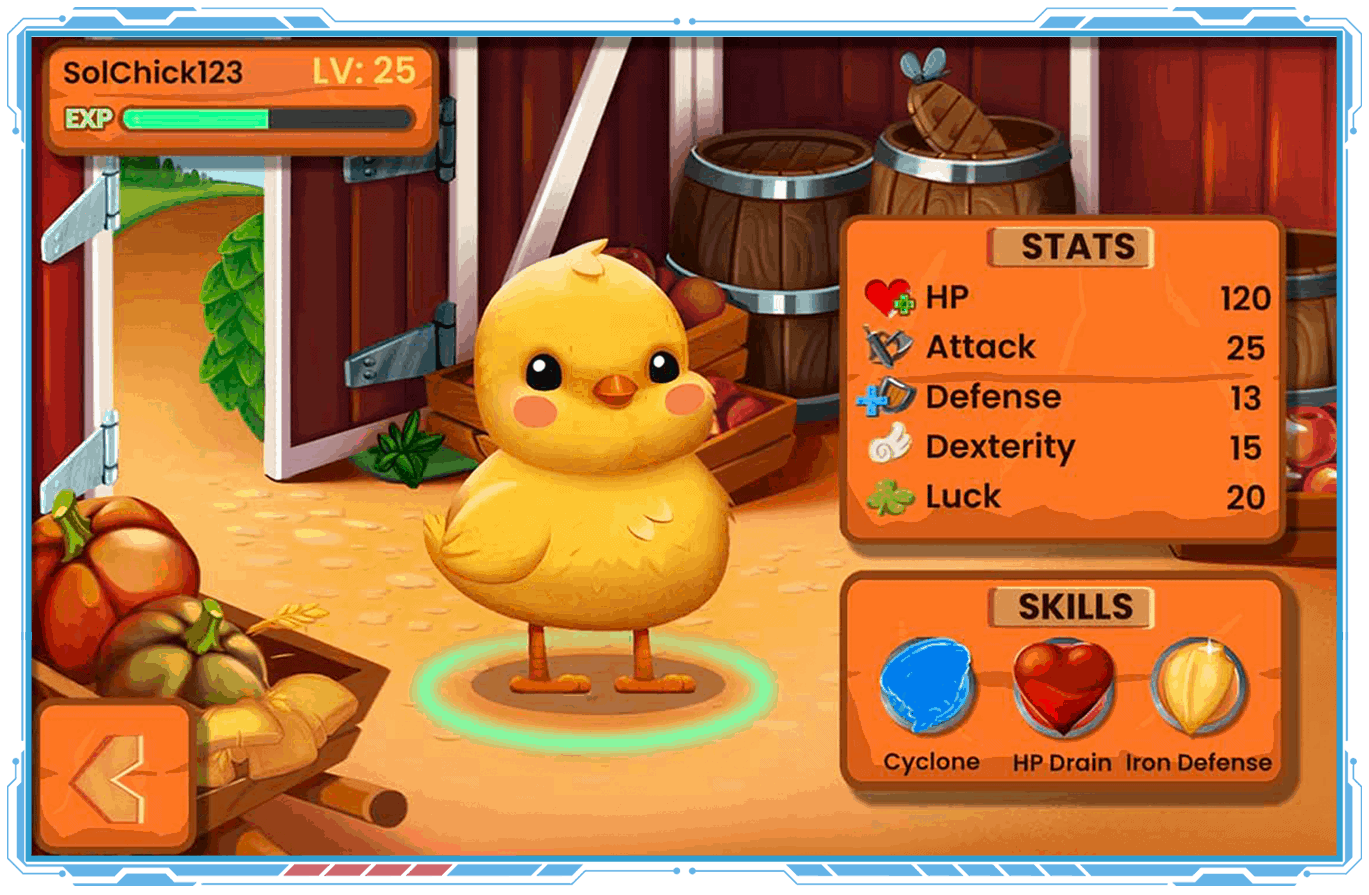 Solchicks is a PVP game based on the Solana blockchain. It's got elements of the MMO RPG genre and is about to have additional features. Solchicks can become a famous best game to earn crypto on the market. Gate.io Labs, Unanimous Capital, Fundametal Labs, Blocore, KV Ventures, and others have already invested in this project.
Soulchicks is a multiplayer game centred on sweet soldier characters and the symbolic world. In this playable strategy game, you will be tasked with rearing and training your chicks for the battle to become the fiercest warrior of them all. You will face online opponents by partnering with them in PVP battles, and your scores will earn you some currency.
There is a strong community culture within the game, and you can meet them and even team up with them to carry out raids against AI monsters. Like any classic RPG game, fighting against others and participating in attacks will let you earn experience points and boost your chick's stats and abilities.
Now a bit more about the chicks. The backstory is that they fled their planet, Chicco, after being attacked by their sworn enemy – SolFox. There are three classes of Solchicks: a bishop, a gladiator, and a wizard, as well as five levels of rareness – legendary, mythical, rare, uncommon, and common. They also have skills, some primary and secondary stats, such as stamina, agility, focus, or resilience. They are different in terms of weapons and items they carry.
Obviously, all these stats are going to influence their ability to fight. So to improve your chicks' characteristics, you'll have to train them, send them into battles, and complete raids.
You can also breed your chicks and create dominant new generations of chick warriors. Doesn't that sound victorious?
But, once you breed them and new Solchicks are born, you'll have to look after them, feed them, play with them, and bond with them in general. This can significantly affect their stats and ability.
There are several ways you can earn crypto in Solchicks. First, of course, your chicks are NFTs that can be bought and sold at the marketplace. To progress, you have to nurture and bond with the Solchick, and by the end of each week, you get a reward from it in the form of in-game items or currency. This means a happy Solchick gives lots of presents.
You can also make money by selling weapons, armour, land, or the excess crops you've farmed. There are also different in-game rewards that can be sold for cash, in-game NFT prizes, and actual cash rewards for the best fighters on weekly leaderboards.
SolChicks uses its native coin, CHICKS, with a current price of $0.035 and a market cap of around $8.5 million.
Decentraland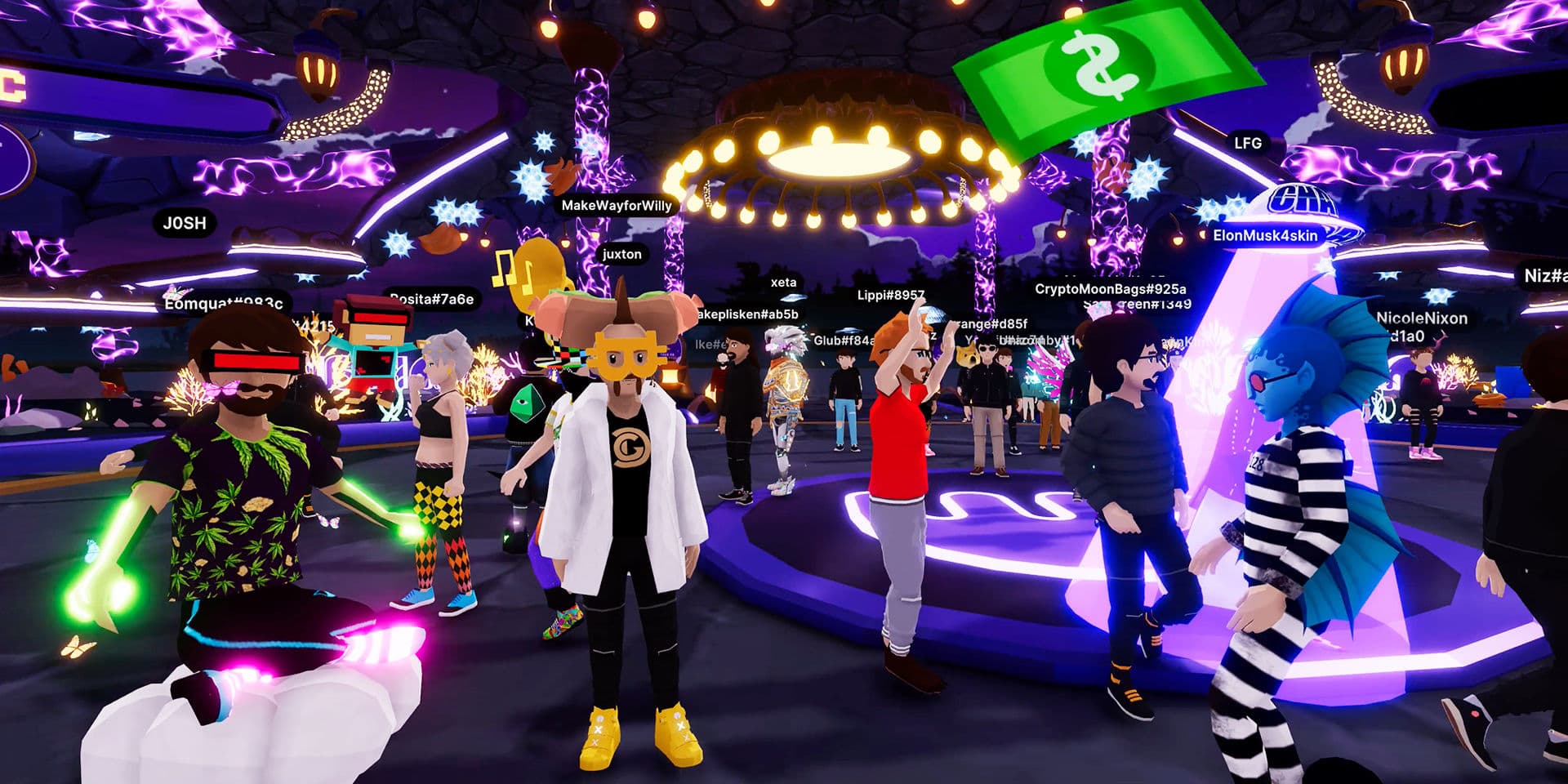 Massive development in metaverse technology in the past few years is about to change the landscape of the NFT game industry. It introduces users to a whole new level of virtual reality and immersive experiences in the metaverse.
Decentraland is one of the best play to earn crypto games that profit from it. They started with a 2D concept known as the "Stone age." The game advertises itself as "the first-ever virtual world controlled by its users." The truth is virtual worlds in cryptocurrency are gaining a lot of traction. The notion of simulation in the virtual world seems to attract many people to Decentraland.
So, what is it? Decentraland is the virtual world, filled with realistic buildings or 3D objects. You can build in Decentraland by purchasing "parcels" or pieces of land. This virtual real estate is NFT. You can freely create various things on this piece of land by utilizing the editor or pre-made 3D models.
What's a house for if you can't have guests? Decetraland is based on community. Apart from voting on its changes and features, players can visit one another on their properties.
The land itself is becoming very valuable in Decentraland. The first parcels were sold in 2017 for as little as $20, but now the prices skyrocket, big investors buying vast amounts of land for millions of dollars. Decentraland has its own market where you can trade your clothes and artwork, sell your avatar, create a unique identity, and much more.
MANA is Decentraland's native currency. However, you can also find LAND assets in the game – basically, NFTs representing land that can be divided into chunks. At the moment, MANA is worth $3.43 and reached a market cap of over $6 billion.
Cryptokitties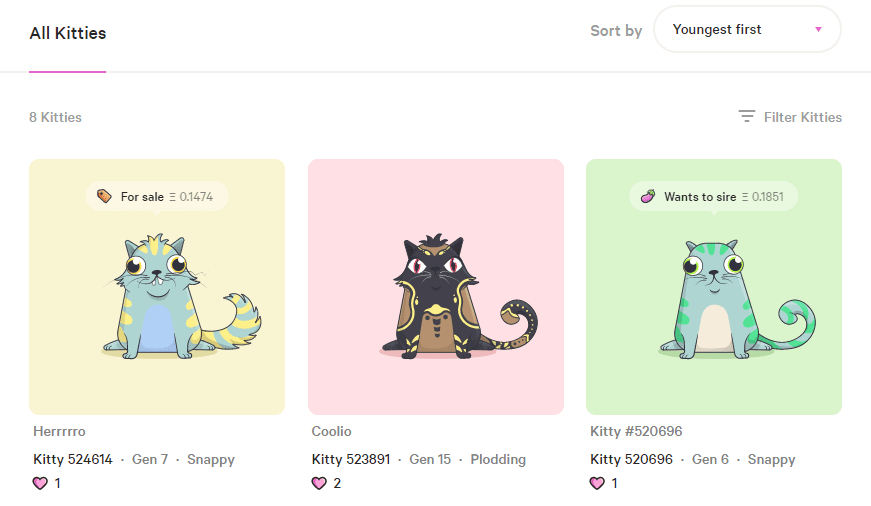 Cryptokitties is one of the first mainstream crypto games that got massive attention in 2017. The cute kitties instantly became one of the best play to earn games on the market. But unfortunately, it even caused technical problems to Ethereum, the blockchain that hosts the game, because of too many transactions that took place simultaneously. And what exactly were those transactions?
Those were NFT virtual cats on Ethereum bought and sold by players and collectors. Each Cryptokittie is an NFT you can trade for Ether. Every cat actually has a 256-bit genome that contains information about its attributes. Twelve attributes get combined when you breed the cats, and that's where the fun starts.
The whole catch is to use the ones you have or find kitties with good genes, breed them, and create a super-rare kitty you can sell for an entire lot of crypto coins. The breeding period lasts for almost an hour. After that time, you can see your new kitty on the screen. How does it look? You'll have to be careful, though,  since there's a cooldown period for each cat after breeding, and you'll have to wait until you can breed them again.
There are over 2 million Cryptokitties in circulation, and the most expensive one was sold for over $1 million. Since there's an upper limit to the number of Gen0 cats and the number of cats in general, there's a good chance that the rare ones will get even more valuable.
My Neighbor Alice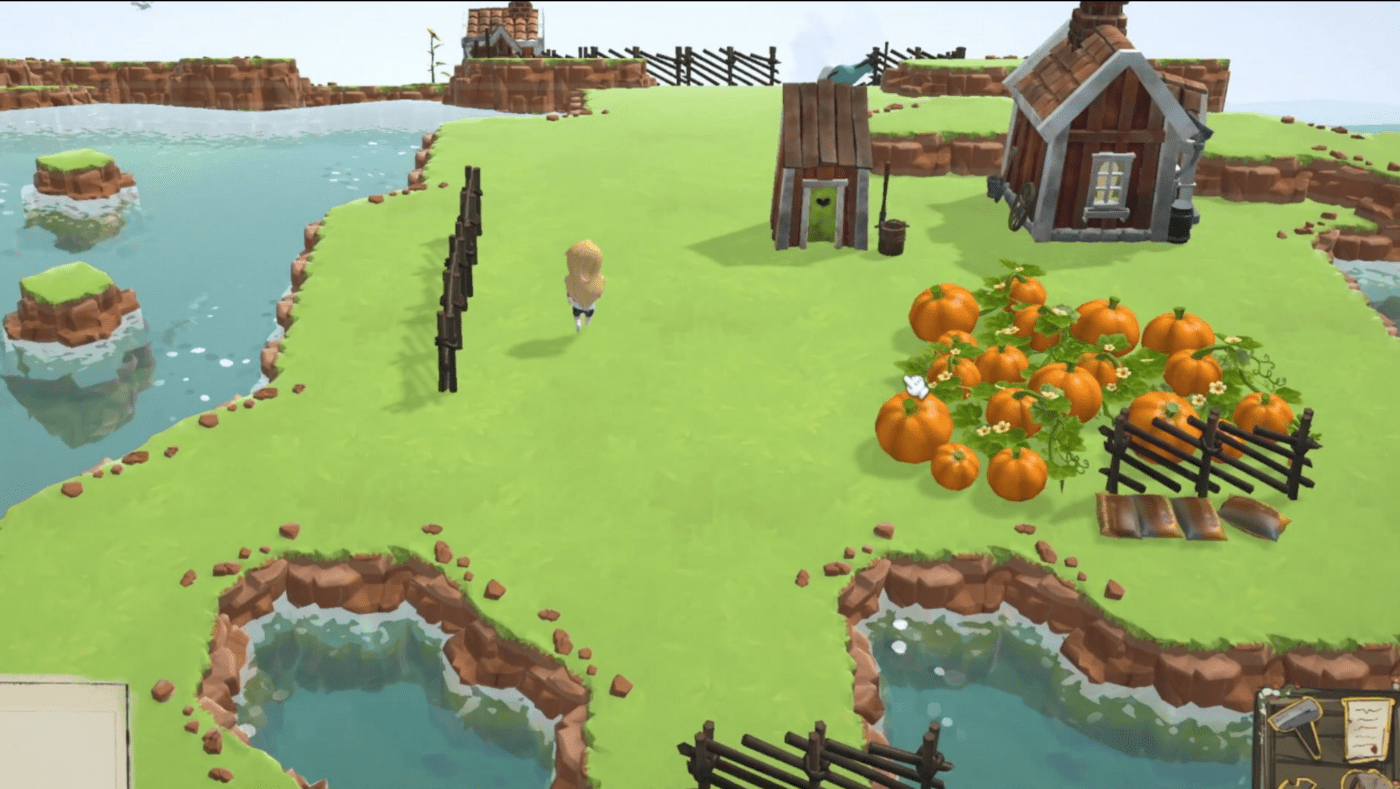 This is another metaverse game where you can buy land, meet people, and build stuff. First, you get a piece of land, actually an island, where you'll set up your farm. You can experiment here as much as you'd like. You can alter the terrain, build houses and barns, earn or buy animals, plants, or fences, grow vegetables, and enjoy your farm life to the fullest.
The game also allows you to mingle with your neighbours and meet other people. Thanks to a reputation system that benefits good neighbours, it encourages specific values and behaviour. So, My Neighbor Alice doesn't just sell virtual NFT-based real estate. It also sells an experience of hanging out in a world you'd actually like to live in.
As for the economy part, it is the best game to earn crypto. The most obvious way to capitalize is by selling in-game assets to other players. These are actually NFTs, and they are treated as such. You can do it on the games marketplace or use an external one. You can also win prizes by completing daily quests. However, you can also charge visits to museums or your house.
My Neighbor Alice uses ALICE coin for in-game purchases and staking rewards. The coin is worth $9.18, and its current market cap stands at around $280 million.
Illuvium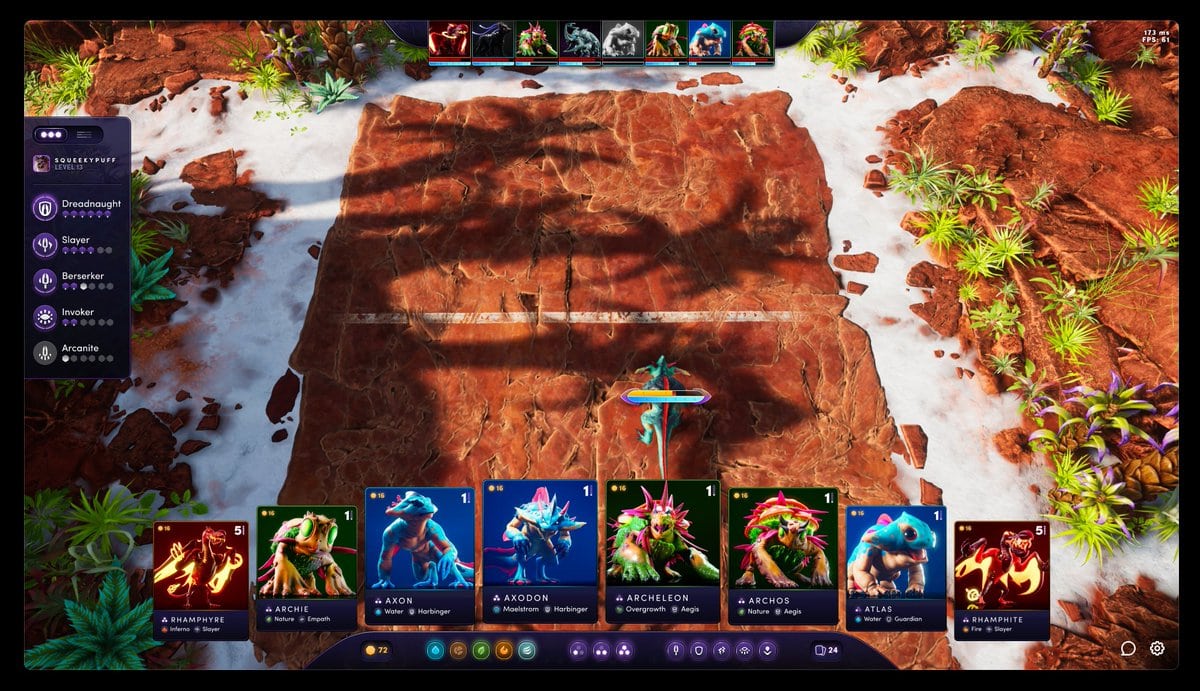 Illuvium is a playable strategy game that hasn't been launched yet, but it's been widely expected and hyped for a long time now. It's in the test phase at this point, and we expect it to be out soon. However, the world is still being populated by creatures or, better yet, Illuvials.
Here is the background story, Illuvium is an open-world RPG game that happens on a faraway planet, where you ended up when your spaceship crashed. You'll be exploring this planet, hunting and collecting deity-like creatures called Illuvials. Once you capture them, you can join your army and fight other players.
These creatures can be customized, enhanced, and even fused together. They all have different properties, affinities, and classes, so combining Illuvials can merge their stats and upgrade them to a more powerful form.
Of course, Illuvials are NFTs, and selling them is one of the main ways to earn crypto. You can also sell their skins and weapons and other in-game items. Another way to profit is by competing in tournaments with other players. Moreover, by staking the ILV coin, you'll win rewards and gain governance rights in the game universe.
ILV (Illuvium), the game's native coin, has a market cap of $460 million, despite the fact it hasn't been released yet. The individual ILV coin is worth around $720.
Revv Racing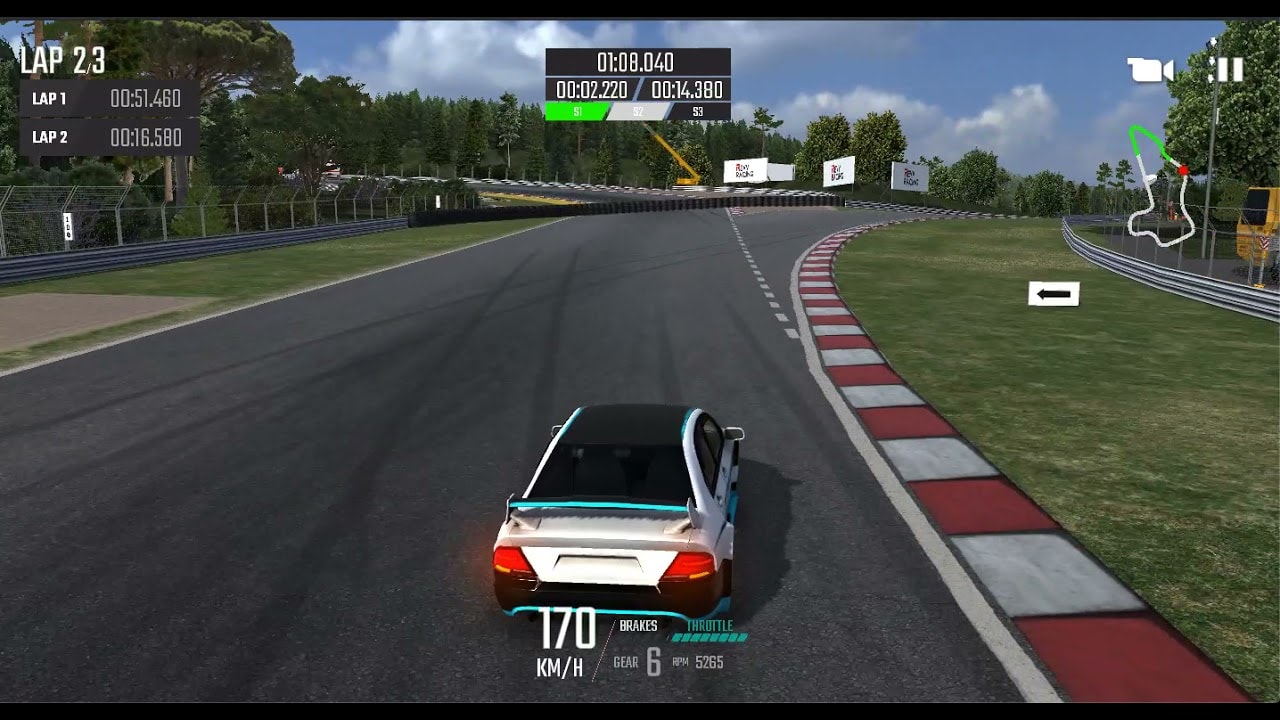 Revv Racing belongs to the genre that's not so common among crypto games – car racing. It's a first-ever arcade simulation car racing game on the blockchain. It looks traditional, but looks can genuinely fool you.
The idea is pretty simple – you're racing against other drivers and aiming for the top spot. Actually, one of the chief strengths of Revv Racing is that it has a look and the quality of a traditional racing game.
The only difference is, of course, the fact that it's built on blockchain and that cars can be used as NFTs stored in Metamask wallets alongside currency. These NFTs have their unique chassis number and class, weight, or rarity properties.
To compete, you'll have to buy a car from the marketplace or participate in one of the car-earning events that have entrance fees known as gas. Also, you have a limited number of free tries, so once you've used them, you'll have to purchase more.
Your performance will depend on the quality of your car. Best cars have boosts that can improve your handling or speed you up. And, of course, the best cars cost more tokens. But the appeal of Revv Racing is not just in great gameplay but also in big reward pools. Top 1000 racers in tournaments can earn hundreds of thousands of USD in rewards.
Of course, this money will be paid in the native cryptocurrency of the game – REVV, worth $0.1143 at the moment. Its market cap is at around $31 million.
Alien Worlds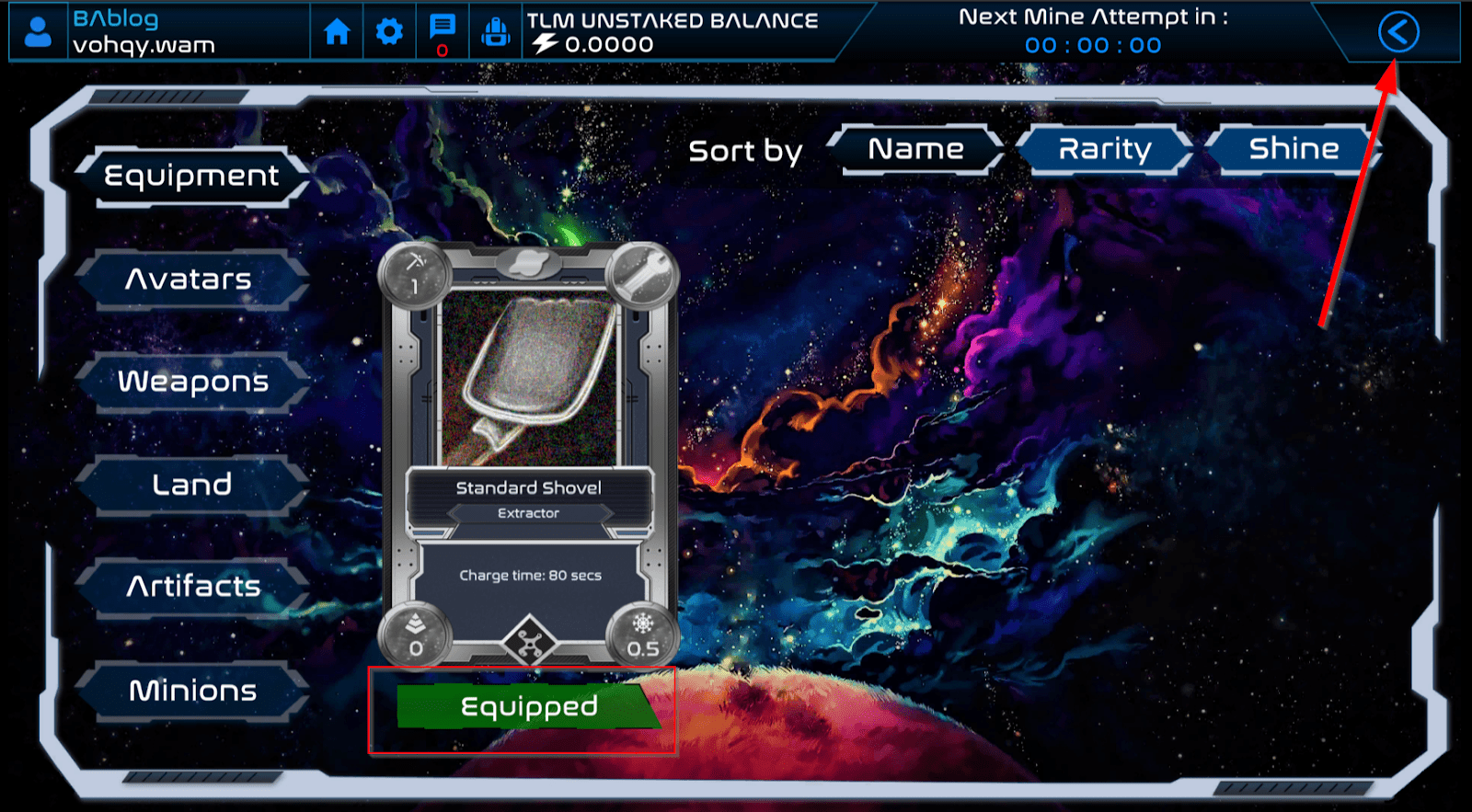 Alien Worlds is a metaverse game where you own land, trade in-game NFT assets, and complete quests. It is similar to Minecraft but with a twist. You're in deep space, where players scattered across 7 planets mine digital items or combine them and forge new ones. Also, you're involved in a complex system of governance where players from different worlds make important political decisions that will affect the course of the game. And that's not all.
The level of influence you'll have in your planet's DAO (decentralized autonomous organization) will depend on the amount of Trillium (TLM) you staked on that planet and its tradable in the real world. It gives you more voting rights on elections that are organized weekly. In addition, the DAOs decide about different in-game strategies, such as the distribution of the planetary treasury.
On a micro-level, you're buying and selling land, mining it, or buying tools and weapons that you can trade as NFTs or use in the game to earn TLM. You can also become a landlord – other players will pay a fee for mining on your land.
The charm of Alien Worlds is in its curious sci-fi backstory and the thrill of running for the planetary council and being involved in in-game politics. Interestingly enough, the founders of Alien Worlds, Sarojini McKenna and Michael Yates, even tried to establish their own country as a part of an actual real-world political experiment in a real-world piece of land they called Liberland but it failed.
So now they're going for something similar in the digital universe, which uses Trillium (TLM) as its native token. The price of Trillium now stands at $0.1417, and its market cap at $129 million.
FAQ – Play To Earn Games
What is Play to Earn?
Play to earn is a business pattern that took over the gaming industry. It embraces the notion of an open economy and provides real-world benefits for players. It's all thanks to technology and its widespread access into every home worldwide.
So, what's the deal and how does it work? The concept is based on the simple foundations of giving gamers ownership over their in-game assets. In turn, they create value while actively participating in quests, battles, etc. These in-game items can be anything from tools to entire real estate. Now, since the players create them according to their personal preferences or gain them through gameplay, each item has a unique value and represents an NFT.
That means that these assets are tokenized on the blockchain and can be sold or purchased. Game developers reward their players for putting effort into their products. For instance, players earn cryptocurrency within the game, for example, breeding creatures. They can sell these creatures on the open marketplace and attain real-world currency.
Also, NFT technology has enabled players to transfer avatars or items from one game to another or sell them for profit. Something unthinkable while playing traditional games.
How to Play Games and Earn Money?
This is easy with play-to-earn games. You'll just need a cryptocurrency wallet, and you'll probably need to exchange some of your coins into the native currency of the game you choose. Each game has its native money.
Pick games wisely because there are still scams and get rich quickly. If you're in doubt, look for the best-reviewed games or at our list of best play to earn games.
Be sure to check the way games reward players and what assets you can sell. Different games offer a variety of opportunities to earn money while playing. Some have rewards, and some allow you to sell everything you own. The ultimate goal in most of them is to create unique items and sell them for a lot more money instead of making microtransactions. Finding the right one isn't easy, but you make sure you are dedicated to it. Then, after you make your pick, install it, start playing, and make some money!
What is the Play to Earn NFT Game?
NFT games are, simply put, games where players can use their unique tokens in the game and sell them or buy more. Sometimes you'll need to buy one from the game studio before you start playing. Other times you'll get one for free, and you'll have a chance to import a pre-made NFT into a particular game.
NFT trading is one of the most significant novelties introduced by play to earn games. The whole point of the concept is based on unique and scarce tokens, easily transferable to other games. They are the ones that make a difference in financial value. In addition, unlike assets in traditional games, you actually own the NFT you bought, not the game studio nor anyone else, which substantially affects the in-game economics.
Usually, the term NFT games are used interchangeably with crypto games, blockchain games, and play to earn games. An NFT game usually has all these other elements as well – it's on a blockchain, and you can earn some cryptocurrency if you play it.
What is a Play to Earn Crypto Game?
There is no reason to play regular games other than pure fun. But, unfortunately, you pay for the game, and unless you're a professional player or a streamer with a large following, you'll never be able to monetize your gaming skills.
That's when the technology immersed itself into the gaming industry, and business-oriented people saw it as a good investment. Of course, blockchain and cryptocurrency have been around for a while. Everyone at some point heard of it. However, the gaming industry saw an entrance point where a new business concept could give more freedom to players and generate income for the company.
It's a win-win situation for both parties. Imagine starting a regular game, RPG, that uses cryptocurrency instead of a regular one. Hence it's called a cryptocurrency game. In this game, you can purchase assets and finish quests, earn new weapons clothing, but here is where the fun starts.
You actually own these assets, and once you decide to leave the game, you can sell them all on an open marketplace and earn cryptocurrency. Then, of course, you can exchange this cryptocurrency for real-world money. That's how the best games to make crypto are born. How great is that?
What is Metaverse Crypto Game
Crypto metaverse is the virtual environment with social and monetary possibilities. In addition, their use of blockchain technology allows them to make immense use of the crypto market. Users can create objects and sell them for real economic value in the metaverse.
Metaverse crypto game is sort of the aftermath of the success of play to earn games. They both use the blockchain infrastructure to create valuable commodities available for the entire world, not just a single geographical location.
The upcoming games will have an immersive experience while players use virtual reality settings, connect with social media and create value through the exchange of cryptocurrency and NFTs.
How Much Money Can I Earn in Play To Earn Games?
It's tough to tell. Some games will bring you a couple hundred dollars a month from farming, others can get you a one-time few thousand dollar rewards for winning a competition, and some will make you outright rich. The most expensive in-game NFTs can cost hundreds of thousands of dollars, but to get there, you'll probably need a more considerable initial investment or simply a lot of luck.
Can I Lose Money in Play to Earn Games?
Technically, you can. But of course, not more than what you decided to spend. Depending on the game, there will be different gas, entrance, or transaction fees you'll need to pay, and of course, you'll probably be tempted to spend money on other players' NFTs as well. But this is necessary if you wish to earn anything from crypto games. Don't look at it as a loss but as a potential investment. Finally, don't spend more than you are comfortable losing.
What Games Can I Play to Earn Money?
Well, while we have you here, you're free to try SolChicks or any other game from the list. If you still haven't found the perfect match, there are plenty of opportunities and many games to explore. You can try your luck with Goods Unchained, Cryowar, Syn City, Spider Tanks, Mines Of Dalarnia, Battle of Guardians, Metawars, Splinterlands, The Sandbox, Plant vs Undead, Sorare, Cryptoblades, Guild of Guardians, Megacryptopolis, and many many more. You will indeed find the best play to earn game for yourself.